Is there no limit to how much ass Jack can kick? Is there no limit to how many times I say "fuck yeah" at my computer screen while watching an episode? Today was a SUPER stress day, and watching 24 was the perfect stress relief after hours and hours of nonsense today. It felt so good to go along with Jack on his latest ass kicking & bad ass exploits. Although we did see a good dose of "sensitive Jack" tonight as he returned to CTU headquarters for the first time since his "death." Audrey was really shaken by Jack's return and you could tell she wanted to have some personal time with him. But of course Jack had not time for that.
…It was obvious since Spencer's first time on screen that something was up with him. At least the writers put that little twist on things to make him think he was working for IA and the President directly, a la ALIAS. When he was being interrogated by Buchanon and Chloe I was just thinking, "umm, why the F isn't Jack doing the interrogating?"
…I thought Jack might not be able to best that repair/doctor/hitman and would only come out on top once security burst through the door and shot him. … With the scissors just in a little, Jack had him beat and secure. There was no need to push them in all the way and kill him thereby losing any chance of getting information out of him. At least it freed him to focus on Spencer. No doubt that pussy caved within about 35 seconds of Jack entering the room by my unofficial count.
Then I loved once the key person was revealed (the chief of staff dude) and Samwise/Rudy kept saying, "well we can't just do that," to each of those missives Jack was like, "I can," "I'm NOT CTU," "I'll go get him myself." It goes without saying each of those missive dismissives garnered it's own increasingly loud "fuck yeah" from me.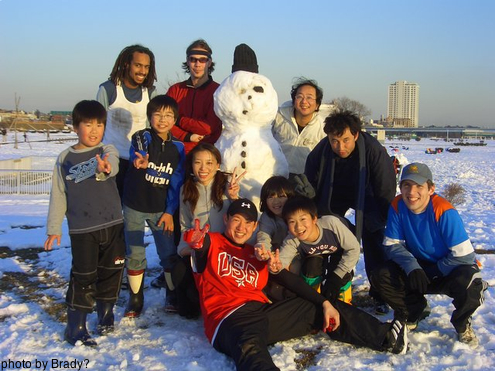 For those that came out to Futako-Tamagawa for the usual Sunday ultimate got a most unusual afternoon of ultimate. Instead of fields of dull green, all was white as I walked from the station to the field. Our regular field was covered in about 3 inches of snow. We had some very new newbie players: 4 Japanese boys around 10-years old. They were all very enthusiastic players laying out for catches more often than not. What was really cool was the way the disc spins in the snow when it lands. Missed throws would just spin in place for a good 10 seconds. A few times the disc even spun vertically. Very cool. If there were only video of it . . .
In the middle of this, Brady using his Canadian instincts rolled a proper snowman with thorax. I rounded up some rocks for its face and jacket buttons. Playing ultimate in the snow is great. I think everyone felt like a kid out there today.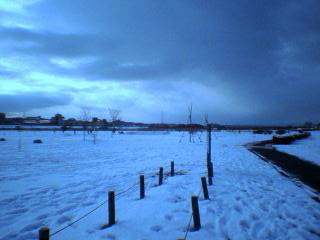 The world is going to try and stop you from doing what you most want, but you cannot let it. That is what I think the message of BROKEBACK MOUNTAIN is. I will not refer to this movie as everyone else does with that oversimplified 2-phrase description. … A romance movie that shows courtship and falling in love like no other movie, or at least no other mainstream movie that I know of. Because when the two people who fall in love are men, they do things on "dates" that men and women just don't do, like shooting an elk and eating it over a campfire. It shows a part of the U.S. you don't often see on film, Wyoming. … Ang Lee's filming of it is utterly jarring for someone living in a claustrophobic, gray mass like Tokyo. In the first act of the movie, Lee shows land, 2 men, and land. Lee let's you take a moment in breath, especially nice if you yourself haven't been out in the great wide open in some time.
The pacing, however, doesn't pick up too much from the pace on Brokeback Mountain. This methodical pace feels like the pace Ennis Del Mar thinks at, slow and steady and earnest.
…If you have ever had to be apart from someone you really, really wanted to be with, this movie will resonate much more for you. If you've had to say repeated long good-byes, you will know what Jack Twist feels every time he parts with Ennis. For most long distance couples, there exists a tangible solution for more permanently being together. … Each character deals with this in a different way, one with outbursts of violence, the other with outbursts of sexuality.
…Watching BROKEBACK MOUNTAIN might seem like a gimmick, and I admit I didn't go into it thinking it was just another movie. And in the end it wasn't just another movie, it was a mirror that makes you look and see if you're with who you want to be with right now.
I heard there would be snow today, and I heard right. Much to my delight snowflakes were covering rooftops when I awoke this (late) morning. So I set out in the afternoon, covered in Mountain Hardwear gear from head to toe (save for my gloves) and was giddy to be slippin' and slidin' down the sidewalks. I thought how weak it looked to hide from the snow under an umbrella as most people were doing. It was nice to be force fed a snowflake every now and then when I looked up with my mouth open. The sidewalks were largely empty though. This was fine by me, more space for me to slide on and scuffle my feet in the accumulation, of which there was a good 3 to 4 inches.
I headed to the skyscraper district, very similarly to what I did on a snowy day last winter. I made no snowman this time though. Instead I looked for good sliding spots and took a few photos. I stood upon an overpass and imagined a rollicking snowball fight in my mind. I threw 3 snowballs, but only at the structure covering a stair case. I was almost emboldened to start one when I saw 3 youths walking underneath who looked like they'd be game.
I'm glad to get at least one chance this winter to have snow to play in.
I'm in a pastel colored café at the foot of the Shinjuku Prince Hotel. It's just me and seemingly the one j-girl staff with some kind of Hawaiian sound j-music playing. I found this place via a website of free hotspots in Tokyo. Damn this is the most uncomfortable bench seat I've ever sat on. It's very weird to be in an empty cafe in Shinjuku, but then again it is on the 3rd floor of a minor department store and close to its closing time. I might become a regular here, reasonably priced mango juice (¥350), non-smoking, and free wireless Internet access all less than a 12 minute walk from my apartment. Too bad it closes at 10pm though! That will limit how much I come here. Plus this damn uncomfortable seat!
It's a very blustery day in the city, very similar to that one day Pooh had. Thanks to my sweet neck gaiter, and my Mountain Hardwear Windstopper Tech Jacket, I walked forth unabated. I actually like foul weather as it gives me a chance to really put my gear to the test, and as people walk around cowering and looking weaker, I feel stronger…striding eyes up unscathed.
Just finished watching the first 2 hours of the new 5th season of 24. It INSTANTLY re-established itself as the most DOMINANT ASS-KICKING show on TV. … In the opening act 2 MAJOR characters are killed off, another critically wounded (for the nth time!). This opening hour reminded me of the very first hour ever of 24 with its level of drawing you into the story, the escalating tension, and just being pure, riveting television. I said "holy fuck" more times in the first hour than I have in the past year. I said "fuck yeah" more times in the first hour than I have in the past year. First came the "holy fuck's," and then once Jack turned off the "Frank" switch and opened up that air vent in his dive apartment, I let out a torrent of "fuck yeah's." … Grabbing a pre-prepared army green bag of weapons, "fuck yeah." Affixing the patented Jack Bauer scowl onto his face, "fuck yeah!" … I was like, "alright Jack, let's start dominating these punk bitches."
But, Jack doesn't just show his badass side. … He took Palmer's assassination hard, both when he saw it on TV, and when he actually laid eyes on his body. He also had a good scene where he talked about almost thinking he had a second shot at having a family.
…I always liked Chloe, and if I didn't already love her last season after wielding that massive rifle, I most certainly do now. She kicked more ass, showed ass, and delivered patented humor by answering a very serious phone call with a casual "hi" of course resulting in a loud "ha" from me.
…So far all new female characters seemed to be required to show cleavage, regardless of age.
…So after the 2nd hour we are left with Jack in a very Die Hard-esque situation, that's what it feels like to me.
I was greatly disturbed by a dream I had last night involving wolves attacking a house I was staying in, which somewhat resembled Terry's house. Yuki and I just made it inside the front door. As I closed and locked it, a wolf crashed into the door. Looking out the window, another wolf hurled itself right into the glass, bloodily smashing into it. I closed the blinds, and they ceased attacking.
I opened the blinds to the sliding glass door at the back of the house, and the wolves began their attack, and ceased again upon closing the curtains. I was very confident the glass was impenetrable, so I had no fear of them breaking in, but when I woke up from the dream, I had strong feelings of dread and ill contentment that we'd have to remain in the house forever, although I did have the idea in the dream to call 9-1-1 if we wanted to leave the house.
Earlier in the week I had a driving dream. Often when I dream about driving, the car I am driving has extremely poor brakes. This was the case this time as well. I couldn't stop the car in time to avoid hitting the car in front of me stopped at a red light, so I had to swerve to the left to avoid it. I push very hard on the brake pedal, but nothing happens. It's a very ill feeling.
Other times, I start off with the regular driver's seat perspective of driving, but eventually I can only see the car from about 50m behind at the same street level. So it feels like I have to blindly drive the car by remote control as it goes out of site around corners for a time.
One day I'll write a full review of SAKURAGICHO after I bring my camera and tripod to properly photograph it. To the left is a photo of the tallest building in Japan, "Landmark Tower" taken with my kei-tai (cell phone). It's about 70 stories tall, and has an observatory on the 69th floor. Note the Moon in the upper left corner.