The Pink Cow [restaurant]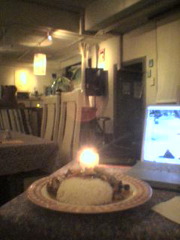 I had long heard about The Pink Cow, but only finally got around to checking it out tonight. I got just what I was expecting, a foreign-owned, hipster performance restaurant with plenty of vegetarian options. I wasn't expecting it to be as smoke free as it was nor for it to have free wireless available to people the proprietor "likes." I can't state how great it is to find a mostly non-smoking, veggie friendly, hipster cafe close to my apartment with free wireless. How I never got around to go there earlier is beyond me. I'll definitely become a regular customer.
There are at least 4 rooms, some submerged. It's a very cozy place. I had an excellent mushroom stroganoff (pictured to the left) for dinner tonight. After that the Powerbook and I spent some quality time together, totally undisturbed because most of the time I was the only customer in the place!