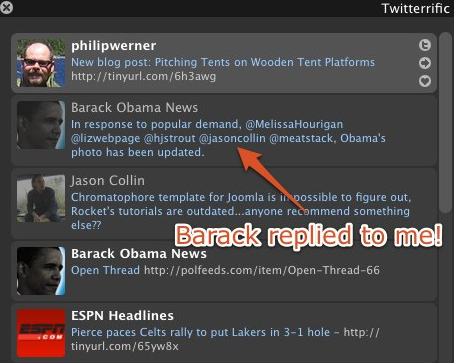 I had been following Barack Obama in Twitter for some time.  One day I noticed he changed his avatar to an angry looking photo.  I thought it didn't look good at all.  I was quite put off by it actually.  So I @ replied to the Twitter saying I think he should change his avatar photo.  
To my great surprise a few days later I see that my advice was heeded!  And that I was not the only person who didn't like the avatar change.  
Of course I doubt Barack himself was following and replying to me, but nevertheless, it's nice to be heard by at least his staff.
RELATED POST:  Barack Obama wants to change–Tokyo curry prices!

Using largely macro zoom on my Xacti HD700, I shot various plants, mushrooms and insects in the Saiko Lake area of Yamanashi Prefecture, Japan. There is also footage of a hawk flying while holding a fish.
Other scenes include ants assaulting a caterpillar, an "ohm" bug romping through the grass, a caterpillar dangling from the sky on its own thread, a spider securing its web, and more.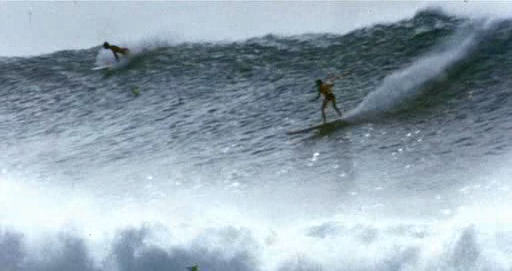 It was yet another rainy Sunday afternoon when I finally watched RIDING GIANTS, a movie given to me by Brady long ago.  This is a documentary chronicling the surprisingly long history of big wave surfing.  It takes us from the very origins of surfing, 1000 years ago in Hawaii, to the origins of big wave surfing in the early 20th century.  Who knew people were surfing huge waves in the 1940's and 1950's?
The stories and footage of these early pioneers in surfing was fascinating to me.  It's no doubt the 1950's are my favorite decade.  Seeing footage of Hawaii in those times was just so wonderfully analog.  
The things these early surfers did on boards without fins or even leashes, and no 911 to call in case of emergency was truly fearless. There are interviews with some of these guys and they are characters, but not overly so.  I was also surprised by just how much footage there was of them surfing, given how poor they said they were, basically living off the land and just surfing all the time!
As the documentary progressed to the 80's, the most amazing thing to me was that one guy surfed what would come to be known as Mavericks all alone for 15 years!  No one would go out with him.  Then one day suddenly it became incredibly popular with the big surfing crowd, though not without tragedy.  
The film closes with big wave surfing as it is now, and as one might expect it is light years ahead of what the guys were capable of doing in the 50's thanks to modern technology.
If you are into surfing, or surf culture, or just the Sea or the beach, this movie will make you totally stoked.  Even if you are not, this is a thoroughly entertaining documentary.  Watch it on a rainy afternoon when you can't, yourself, get out to the beach.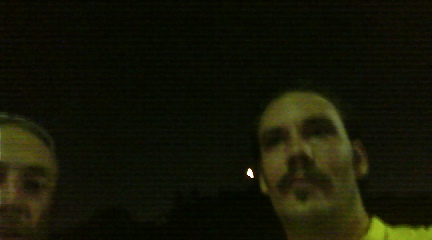 Distance:  16.29 miles
Time in motion:  1 hour 10 minutes 17 seconds
Average speed:  14.0 mph
Max speed:  29.8 mph
I wanted to start riding at night again.  As it is officially summer and it was sunny all day, I knew tonight should be the night.  I used some of my motivational skills and was able to extract UK Mike from his apartment to join me.  
I suggested we do three hardcore laps around the Imperial Palace, which would be a total of 15 km (9.32 miles), as one lap is 5km.  And I wanted us to do it in 30 minutes, the pace I set a long time ago on another ride in March.  Well, I did have to teach until 8:30pm then come home and cook.  So basically I scarfed down some green Thai curry and then hopped on my bike and started barreling down Shinjuku Dori.  Even at this point, I kind of knew it wouldn't be an all internal ride.
I set a hard pace and UK Mike impressively kept up the whole time.  On the third lap I wanted to really attack the two incline sections on the latter half of the lap.  After about 30 seconds of hard grinding up hill, the first heave happened.  I kept on grinding up the incline.  Then the next heave was actual chunks, or rather brown rice with bits of tofu.  I had hit the wall and my pace slackened.  UK Mike caught up and set the pace during the slight downhill and flat section.
There was one more uphill part right before the finish, and I thought I can reclaim the lead there.  I used a sweet slingshot around the last left hand turn to take the lead.  I pushed it really hard up the last incline.  Boom!  More upheaval!  Lots this time actually.  Two good mouthfuls.  Might have been all my dinner!  
The finish line was just a few dozen meters away.  We chilled there for a while chatting while my stomach settled.  Amazingly, all the time I was heaving, I never once got any on my clothes, or my bike, and never stopped pedaling.  I don't recommend this though.
We took a very leisurely pace back stopping to eat TWO ice pops each in front of a convenience store.  Despite the throwing up, it was still a great ride and something I hope kicks off at least once a week night riding, if not twice a week.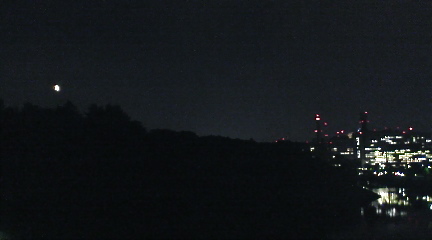 I've been trying for hours to find a good WordPress photo gallery. Please let me know what you think about the one below, thanks! –Jason  
Just got back from watching INDIANA JONES AND THE KINGDOM OF THE CRYSTAL SKULL, the climax of 7 weeks spent in the Indiana Jones universe.  It was a good enough climax. I think CG is the ruin of all modern films, and it definitely lessoned my liking of CRYSTAL SKULL.  As compared to the analog action glory of RAIDERS, the CG ants and groundhogs and monkeys and human characters brought me out of the realism.
That said, the mostly analog opening 30 minutes of the film were all pure Indy.  I loved Indy's introduction in the film, the way he outsmarted a whole outfit of Russian soldiers, how he just used his brain and his fists, which I believe is the essence of Indiana Jones.  He's always at least one step ahead, and if not, he's got the guts to get ahead.  
The entire diner scene was classic Indy.  It was also damn, damn funny.  I ha-ed twice, once when someone was confused for being a mailman and another time referring to a knife.  Great comedy.  I like Shia LaBeouf.  I like his gimmick.  Every time he pulled out his comb, that was gold.  
As I had heard, the ending was a bit ludicrous, and the characters did seem a bit indestructible, and as I mentioned before, the entire CG ants I could have lived without, but otherwise there were enough classic Indy moments to make it a good adventure, especially the first half.  
I liked the pause the film gave for Indy to acknowledge the passing of his father and Marcus.  If only Sallah could have somehow made an appearance or at least gotten a reference!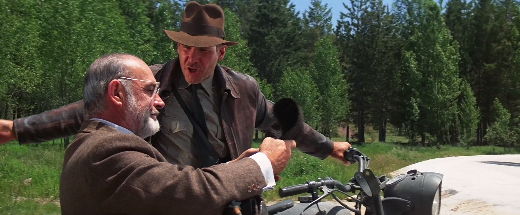 I can't say enough how much of a great time I had watching INDIANA JONES AND THE LAST CRUSADE.  I think it was because the actors in the film were all having such a blast shooting those scenes, the audience can see that and feel that and I totally felt like I was completely along for the ride with them.  I felt, like Sallah, I had been picked back up and brought on one more of Indy's adventures.  
What really stands out in this installment I think is the humor.  Lots of laughs.  And good ones.  Not cheap one-liners, great banter between Indy and the senior Dr. Jones.  This mix of humor and the always outstanding Indy adventure moments added up to a true movie experience.
And the surprise opening where we learn of how Indy picked up a lot of his trademarks was very inspired.  
As in RAIDERS, we find Indy uses his book knowledge and adventure skills to their utmost, a return to form of sorts from the somewhat diversion TEMPLE OF DOOM took.
At the end of the movie, I felt as giddy as Indy and Dr. Jones and Sallah did, and that's a rare thing.
I re-watched all three Indy films at two-week intervals in preparation for tonight's viewing of KINGDOM OF THE CRYSTAL SKULL.
I
t was a very late start to the skimboarding season this year, but I finally made it out to Chigasaki for my first skimming session of 2008.  Usually I start in early to mid-May.  However,
cyclo-camping
became the new rage this spring, thus a late skimboarding season start.

It was Aya's very first time to skimboard!  She is a surfer and snowboarder, so she got the basics down impressively fast.
video after the break [Read more]