Arakawa Cyclo-Camping Tour 2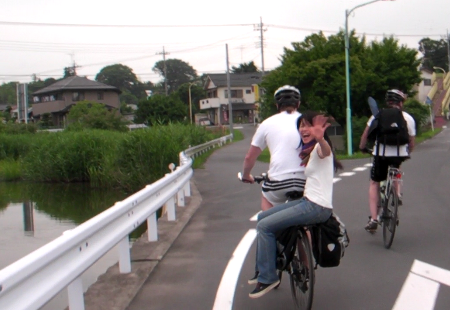 Distance: 105.34 miles
Time in motion: 9 hours 07 minutes 25 seconds (including 1 hour of walking)
Average speed: 11.5 mph
Max speed: 33.0 mph
My second tour up the Arakawa River was . . . very different than my first tour, and also much, much wetter!  What was similar was that UK Mike came with me again, but this time also the Can rolled with us.  And beyond any of our imaginations, we had our respective female companions waiting for us at the campsite!  (they took the train and a bus to get there)  
We all knew heading into this trip that a typhoon would be passing by our area of Japan sometime on Sunday.  That said, the weather on the ride up on Saturday gave no indication of the semi-deluge to come.  It was a very pleasant ride up, little wind, occasional sunshine, and moderate temps.  It was pretty much ideal summer cycling conditions.  

As can be seen in the video below, we encountered large game on this tour.  This includes a large herd of moo!cows and a urinating turtle!  The same birds nesting on a convenience store that I saw on the first tour, were still there and had increased the size of their family!  Nice.  
Once all were reunited at the campsite, we commenced preparing dinner using the BBQ facilities.  Aya and I grilled up quite a decent vegetarian BBQ dinner! 
We all went to the Cotton Cafe jazz cafe as UK Mike and I did the first time, and though recognized, we didn't receive quite as warm a welcome this time, but they were hospitable enough and kind enough to waive the high table charge.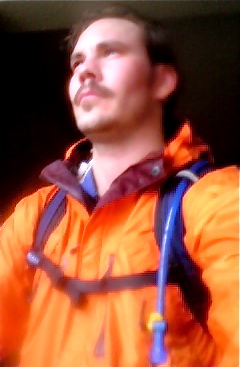 We pitched our tents right before . . . the rain started.  And it didn't stop again until Monday morning.  Heavy-ish rain all night, but inside the Big Agnes Seedhouse SL2 Aya and I stayed bone dry.  I was impressed by its performance.  There might have been one small drip coming in at one point on the zipper of the vestibule.  Maybe.  However, inside there wasn't even condensation after being exposed to constant rain for 8 hours.
On Sunday morning the girls headed off to the train (Aya super kindly carrying my heavy, waterlogged tent for me) and the boys mounted their trusty Trek 7.3 FXs and started the 50 mile journey back to Tokyo into a steady rain and headwind.  At first we all thought it wasn't actually that bad.  Despite all donning rain gear to some degree or another, we were all soon soaked.  Not until the final hour or so did my spirits actually dampen and I begin to really think, "Miserable, getting sick of this rain, got to get the hell back home."
In the end, we all made it back safely and proved to ourselves that riding long distances in the rain is possible.