Rare Weeknight Evening Cycling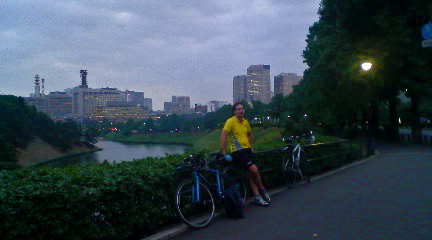 Distance:  15.92 miles
Time in motion:  1 hour 7 minutes 19 seconds
Average speed:  14.2 mph
Max speed:  28.5 mph
On an extremely rare free weekday evening, I rounded up Mike to go do 3 laps around the old Imperial Palace again.  We want to make this a regular weekly ride, if not twice weekly.  So despite Mike being a bit tired from an hour long job last night, he rallied to keep the streak alive, now at a humble two weeks in a row.
Traffic was still quite heavy around the palace at this time, so the usual 10-minute lap pace wasn't quite possible.  After a 12-minute first lap, I found myself in a better traffic flow on the second and third laps enabling me to clock 11-minute laps for those. During the second lap I decided not to click down to any gear below 3-5 (largest front chainring, 5th rear chainring).  During the gradual ascents on the back half of the lap I just found my momentum and was able to keep the legs churning without breaking speed.  The second ascent right before the start/finish line was attacked and made short work of.
On the third and final lap especially, I barreled down the initial hill at 28 mph and pegged my speed at 25 mph on the long strait-away after the descent.  Staying in 3-5 I had to use some energy to maintain momentum up the first ascent, but destroyed the second ascent and finished my 3 laps strongly, pondering a fourth, but ultimately deciding to end strongly and make the next ride out the first ever 4-lapper.
Weather was very nice.  The air was crisp and actually felt a bit cool on the ride back into Shinjuku along Shinjuku Dori.