Genny's 4th of July Party 2008! [video]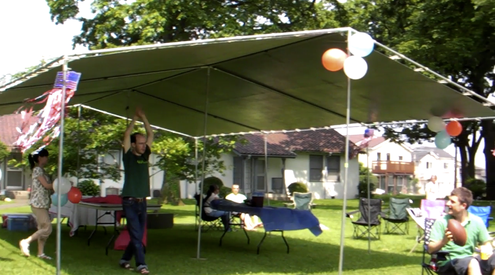 The Foote Family (Dennis, Kathy, Genny) once again opened their doors to all for a 4th of July party at their home on the Sagamihara housing complex of Camp Zama (a U.S. military base).  Over 25 people showed up.
After helping set up for the BBQ in the evening, we went to the pool for some leisurely swimming, which soon turned into spontaneous swimming race challenges, where Genny took on and defeated almost all comers.  Yoshio was defeated by Kerry.  I gave blood to reach the wall first.  In more traditional pool pursuits, Yoshio, Luke, Kerry and I all took turns trying to catch a small ball while diving/jumping into the deep end of the pool, which was great fun.  I, myself, made many just regular dives into the deep end.  Joy!

After that there was some quite spirited volleyball to be played, mostly 4-on-4.  How Yoshio's team won so many of those games is beyond me and Luke's understanding, as well as one bystander's.
By this time we were all pretty hungry so we headed back to the house to begin consuming the huge spread Dennis and Kathy had laid out, which thoughtfully included some vegetarian burgers for me.  Then it was cake tabehodai time for me!!  I ate 5 pieces of cake along with at least 6 cookies and throughout the day drank approximately 8-10 large cups of pink lemonade.  Sounds about like the usual quota for a good 4th of July.  
Big thanks to the Foote's for hosting such a large bunch, and I look forward to Halloween on base in October!
VIDEO: