High traffic 3-laps around the Imperial Palace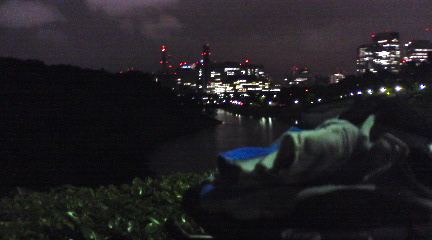 Distance:  15.8 miles
Time in motion:  58 minutes 15 seconds
Average speed:  16.3 mph
Max speed:  28.4 mph
Tonight's 3-laps around the Imperial Palace was marred from the start by some dude totally unnecessarily  honking at me as I dropped in to the loop and then by at least 50% red lights.  I wasn't feeling well enough to go for 4-laps like I had hoped, and having eaten dinner too late again, I had digested enough to even put on the speed for a new record 3-laps without risking throwing up again.  So I guess it was actually a good time to be limited by all the red lights and traffic.
I have been watching Tour de France highlights from a British show the past week, which has inspired me to ride even more.  When I was a kid in the 80's I used to ride my 10-speed around my neighborhood imagining I was Greg Lemond in the Tour de France.  After watching the stage 9 highlights during dinner tonight and seeing Riccardo Ricco's inspired burst up the second category 1 climb of the stage, I decided to get up out of my saddle on the much, much more modest climb on the back-side of the Imperial Palace loop.  This allowed me to stay in gear 3-6 up most of the climb, then when I went back in the saddle I clicked down to the usual gearing of 3-5.  
I thought getting out of the saddle was weak before, but everyone in the Tour does it, so I'm going to start doing it more myself.
I'll attempt 4-laps on Thursday night I think.  Got to digest!