FOUR laps around the Imperial Palace!!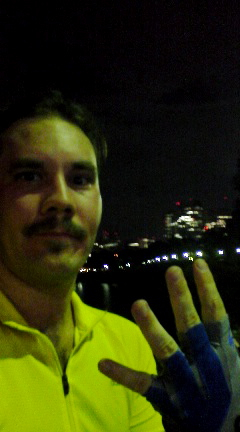 Distance:  18.95 miles
Time in motion:  1 hour 7 minutes 53 seconds
Average speed:  16.85 mph
Max speed:  29.6 mph
Tonight for the first time I did four laps around the Imperial Palace!!  I was hoping for a new average speed record too, but more on that later.  I was able to easily do a fourth lap tonight because I ate dinner at the relatively normal time of 7:25pm and started my ride at the relatively late time of 10:50pm.  That meant plenty of time for digestion and hence no risk of throwing up when grinding away around the palace.
I got to ride under the light of almost a full moon, which was nice to glance up at when I could see it between buildings.  I was going to use the second clock on my cyclo-computer tonight to record stats for just the laps around the palace, but I dropped into the palace loop so fast I didn't want to take my hands off the handlebar.  Thus, no second set of stats.  So, somewhat unofficially, a new average speed record was set for the stretch of riding from my apartment in Shinjuku to the end point of the loops:  17.6 mph average.  
I was hoping to be able to smash or at least beat my overall average speed record of 17.0 mph, but I swear I couldn't string two green lights together the whole ride home.  This was basically true for all but the third lap around the palace as well.
Ah, so why four laps tonight at last?  Well, thanks to digesting mostly.  Then also because shortly after starting the third lap I wasn't even sure if it was the third or second lap at first.  Realizing after a second that it was in fact the third I though, "hell, I can go for four tonight!"  Easy to say on the fast downhill part, but even on the last ascent of the fourth lap, my legs were good and my heart rate even better.  
I'm not sure if doing four laps will become the new standard for every trip out to the palace, but at the least it's good to know it's totally doable, as long as one has had enough time to digest!
Please comment with your own cycling story or digestion story!