Skimboarding 2008 – Session #03 – Hiratsuka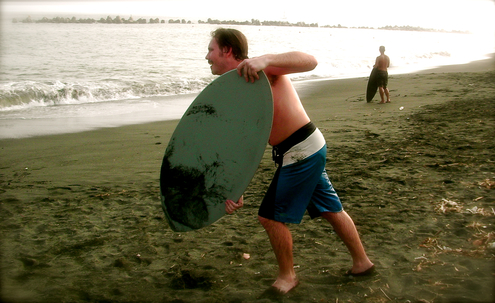 The waves were significantly bigger this time at Hiratsuka, which always makes for more fun for the skimboarder, as well as the chance for bigger wipeouts!  But here's a secret—big wipeouts are fun.  They may look like they hurt, but most of the time you are falling into deep water so it's just a matter of keeping your mouth closed so as not to drink in any water.
Besides the larger waves, the biggest conditions difference was that the sand was a bit softer, no doubt because of the larger waves crashing on the shore and carrying sand all over the place.  This meant I ran a step slower than in the previous week's session.  It also meant that my ears ended up being full of black sand!  Usually I get a little, but this time the amount of sand coming out was a bit disconcerting.  Aya hadn't experienced this before, so I had to reassure that this was normal for skimboarding Shonan area beaches.
I skimmed for my usual close to 90-minute session.  As always, my best ride wasn't caught on video.  It was a massive frontside flair where I stalled up high on the wave as a cascade of water fell right before my face.  That kind of move feels very badass to do.  Most rides were backside though and I connected on several decent waves.  Not being able to get my usual top speed up, however, meant more missed waves than usual.  
Aya did well to skim in these conditions as they were not easy at all for a beginner.  She had her best ride yet, which was somewhat by accident.  She just kept running toward a wave way further than I was thinking in my head she should have dropped the skimboard and hopped on, but it turned that she was able to get on the board quickly still, and had good speed and was able to hit the approaching wave and successfully float over it.  She had never done that before, so again this week more progress in her technical skimboarding skills.  
VIDEO: