No concept of time [essay]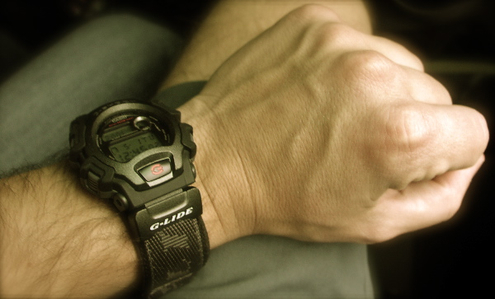 I have no concept of time.  By that I mean that my mind does not easily accept the accepted ways of perceiving time.  To start, let me list my difficulties with time:
I always think people are the same age as when I first met them.
Weeks feel like a constant stream of the exact same moment.
I have very few memories of my childhood.
Time can be quantified easier as one gets older.
I want (or need) to be able to pause time, or step out of it to try and catch up.
In the following I will elaborate on the above points in order to try and express my distresses with time and not being able to stop it, how it is to feel it slip through mental fingers in my mind, and how it all feels like just one long moment, as Vonnegut described in Slaughterhouse-Five.
I always think people are the same age as when I first met them.
I have known Ann Morris since 1993.  That is now 15 years ago.  To me she is still only about 48 years old.  When my brother appears in my dreams, he is never more than 12 years old (the age he was when I went away to college and stopped seeing him regularly).  In my dreams, I, myself am only about 22-years old.  I rarely see extended family members, so when I hear that cousins I still perceive as 8-years old have gotten married, it really blows my mind.  My first thought at such news is, "how is a kid getting married?"  Hearing a high school friend has had three children, I think, "wow, that's a lot for someone only 20-years old."  Perhaps this is because my mind is seemingly stuck in a permanent "student mindset."  I break the seasons of the year down still according to the academic calendar.  Even though I have no more summer vacations, I still perceive that June, July and August are "easier" months, as those were the months I had off when I was a student.  I guess it doesn't help that with many of my close friends, I don't see them for years at a time because I have lived abroad for almost a decade.  
Weeks feel like a constant stream of the exact same moment.
I used to have a group lesson at a medical supply company at 6pm on Thursdays.  There was a security gate, so one of the guys had to come and meet me.  It was usually the same guy and I would always say to him as we walked to the guard's office to sign me in, "doesn't it feel like just one second since last Thursday at 6pm?"  Eventually this became just, "One second?" to which he would reply, "Yes, one second."  And I could recall the previous 10 meetings or so, such that my life felt like a stream of these 6pm on Thursday moments.  But this could be said for any moment in my week, routine as they are.  How about 9:43pm on Fridays?  Those have been the same for years.  I walk home from Okubo station and look into two small restaurants.  One particularly memorable time I can still remember, it's a marker in my mind.  And I can't believe dozens of viewings into that restaurant have passed since then.  
I have very few memories of my childhood.
Eight years ago I was staying at my Aunt Allison's house.  She brought out some photos of our extended family at a beach I know I went to many times as a child.  Yet when I looked at the photos and saw myself in them, about age 10 or 11, I had absolutely zero memory of that occasion.  I cannot describe how disconcerting and disturbing to one's mind to see oneself in a photo and have absolutely no memory of that occasion.  I felt like I was looking at spy photos, but not really, because I didn't even remember being there myself.  This led me to realize that I have few childhood memories, possibly very few.  My full memory set only kicks in after my family moved to Florida when I was 12.  Perhaps this is the same age most people begin a full memory set?  All I know is that before that age, there are only a few sparse memory images in my mind.  
Time can be quantified easier as one gets older.
I think this is widely known, that as one gets older, one's ability to perceive quantities of time gets easier.  It's only logical.  If one has only lived one decade, how can one really perceive that much time?  I used to think a decade was, "forever."  Now, I can quantify it in my mind.  And in being able to do this quantification, and then extrapolate it over my entire future, I feel like my remaining life will only be a second, just like that same one second that passed between 6pm on Thursdays.  
If you can quantify the rest of your life, does that mean you've already lived it?  
Not that you've technically already lived it, but rather that one's life is already on rails, and you are just going along for the ride.  I feel these weekly seconds are quite finite, and quite countable.  The question is to try and catch and hold on to one of these numbered seconds, or burn through them as fast as possible and not care when they run out.  This question is often on my mind.
I want (or need) to be able to pause time, or step out of it to try and catch up.
Since I am seeing weeks in seconds, and highly repetitive, it is very hard to pause and take stock of things.  To look around and access the situation, or rather, to simply being able to digest all that has happened, and then, and only then, when fully ready, begin to advance through time again.  
Everything has a pause button, I want one for time.
I want that because I feel without a time pause button, I can never change anything about myself.  This is the feeling I feel constantly, which is like this:  when you trip and are about to fall on your face, you feel like that first bit of falling is slow and you can contemplate a thousand things just in that instance.  That is how I feel about a lifetime of time, that I have already tripped, and that it will be all over in a second, which is fine with me.  I would just like a paused moment to be able to think on things before it ends.  Every time I try to do this, damn Monday comes again and I repeat the cycle:  say hi to student at 6pm on Thursday, stare into the restaurant at 9:43pm on Friday, etc, etc, etc.  
Please share your concepts, perceptions, and experiences with time in the comments below.