Day-cycler does 3 Imperial laps!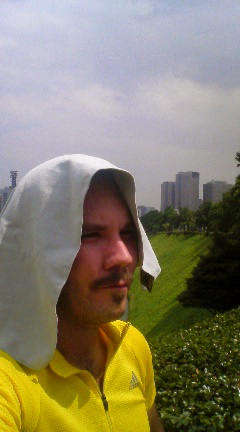 FULL RIDE STATS:
Distance:  15.84 miles

Time in motion:  1 hour 1 minute 2 seconds

Average speed:  15.5 mph

Max speed:  28.0 mph
3-LAPS STATS:
Distance:  9.39  miles

Time in motion:  31 minutes 24 seconds

Average speed:  17.8 mph
Due to the sudden arrival of a powerful thunderstorm last night, I could not as usual do laps around the Imperial Palace in darkness.  So after I got up today I donned my yellow jersey and dropped in on bright sunshine.  It felt good.  
The atmosphere driving through the city during the day is totally different than the night, as one might expect of course.  Riding during the day feels friendlier.  I guess if you are seeing people out and about, they are on break from work or just plain not working.  So it feels a bit relaxed.  It could also be that I am not working while other people are out working, so my leisure time feels that much better. 
I was expecting more traffic on the palace loop than at night, but I can't really say traffic was any worse than any of my last few night rides.  I did have to come to a complete stop once, but did not have to unclick, I could stand and balance in my pedals until the traffic started moving again.  Also, there weren't the lines of cars waiting at red lights were not that long, so not much trouble snaking through and on to open road.  
In fact, I had a helluva fun ride.  There were no illusions of doing a fourth lap this time, so maybe the heat did have an effect on me, but I didn't notice the heat in particular.  Maybe not eating breakfast before riding was more cause for not doing a fourth lap.
The ride was not without incident, as some fool riding against traffic on a housewife's bike around a blind corner made me have to skid to a stop.  Ignant.  
Still, I may soon go day-riding again.  I like the atmo in the city and around the palace.