Yamate Dori Evening Cycling in Tokyo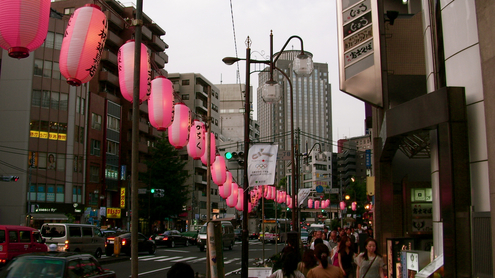 RIDE STATS:
Distance:  11.07 miles

Time in motion:  47 minutes 22 seconds

Average speed:  14.1 mph

Max speed:  30.7 mph
Continuing the trying to be different cycling theme this week, I finally rode somewhere besides the Imperial Palace!  A comment from Tornandoes28 helped motivate me to once again return to exploring riding, as I used to do so much.  Yet this is not my first ride down Yamate Dori toward Ebisu station, so technically not exploring.  
I like riding down Yamate Dori because there are chances for real speed as exemplified by my max speed of 30.7mph.  It's rare to get above 30mph, but thanks to a long slight descent I was able to barrel down that stretch in gear 3-8 for a long time and whip around a swooping turn alongside cars, though they couldn't take that turn as fast as I could!  Really tested out the Trek's tires on that turn.  It was a huge rush.  
The other plus of riding on that stretch of Yamate Dori is that the street gets quite scenic with quaint and artsy shops running along both sides.  Makes me feel like I am in Europe or something, at least for that 2-minute stretch!
Other parts are under heavy construction and on the ride back there was lots of traffic, but I liked snaking through the long lines of cars side-by-side, me standing up in my pedals surveying all like the apex predator.  That is how I perceive myself on the road.  Not as the weakest, most vulnerable vehicle on the street, but rather the apex predator, the most dominant vehicle, and one that is entitled to the lion's share of the road, as I am the only one on the street that is carbon neutral.  I pedal with great pride.
As an undergrad at the University of South Florida, I went everywhere on my mountain bike, and wore proudly a t-shirt with these words emblazoned on the back:
Think Globally, Bike Locally
The environmental movement started long ago, for some people.