Cycling with Mike, again, and throwing up, again!!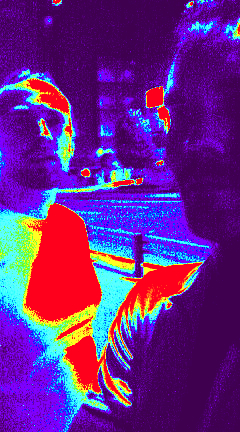 FULL RIDE STATS:
Distance: 15.86 miles

Time in motion: 1 hour 1 minute 31 seconds

Average speed: 15.5 mph

Max speed: 31.0 mph
3-LAPS STATS:
Distance: NA

Time in motion: 29 minutes 24 seconds

Average speed: 19.0 mph

NEW RECORD!
Well, it had been one month since
UK Mike
and I rode together around the
Imperial Palace
.  I had gone on many solo rides since then, and last week he went on a solo one as well.  As you may recall, not enough digestion time
lead to me throwing up
on our very first night palace ride, and sure enough, lack of digestion time tonight again yielded an upheaval for me on the very final stretch!  
At about the 80% mark of the first lap my heart rate was too high, so I signaled for Mike to pass and set the pace.  And set the pace he did.  He only briefly relinquished the lead once after that.  He undoubtedly rode his hardest yet around the palace.  The whole time he maintained an average of a 1 to 2 second lead over me.  I couldn't get my heart rate down until the third, and final, lap.  As we went around the final corner, he had a good 1.5 second lead.  I pedaled through the corner hard and got out of the saddle and made it to his back wheel.  Then the upheaval feeling came over me and I just sat up hoping to stem it.  There was one small dry heave shortly after.
After getting to the finish/start line, more heaves came, though I was trying hard to keep my dinner home (spicy, organic curly-q pasta with tofu and bread).  It was pointless, a small upheaval, then I took a few more steps, and a large burst jumped ship.  And then I felt better.
So there you have it, the key to cycling and maintaining proper food containment is digestion.