Teien Art Museum Garden in Meguro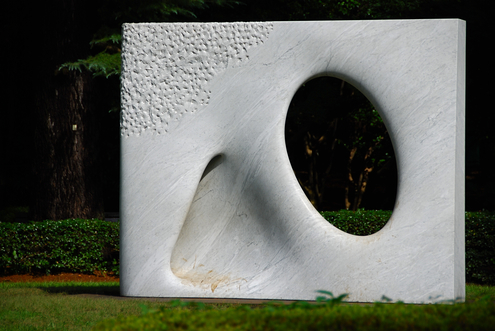 It's been raining all week in Japan, but very luckily there was a 90-minute random sunshine break Saturday afternoon, and that just happened to be the time Aya and I arrived at the small, but cozy and densely forested traditional Japanese garden surrounding the Teien Art Museum in Meguro, Tokyo, Japan.  The park contains the usual ponds and pogodas that all traditional Japanese gardens have, but is also dotted with several large pieces or artwork and sculptures.  Pictured above is the most impressive, a huge, smooth marble square with a hole and seemingly a giant's nose impression.  It was very smooth the the touch.  I enjoy running my finger tips over smooth, cool marble, and don't often have the chance, so this was a nice, unexpected find.
Spiders were visible all over the place, and cicadas were audible from mostly hidden tree branch perches.  The lone pond had the usual coy and turtles.  Then there were some butterflies and dragonflies zipping around, all too fast to get any shots of.
The garden surrounds an excellent museum, that when combined with a visit of the park itself, combine to make an excellent afternoon in the city, but not in the city.
TEIEN ART MUSEUM GARDEN INFO:
Admission fee ¥300  (with museum ¥1,000)
7-minute walk from Meguro Station (on the Yamanote line)
4-minute walk from exit #1 of Shirokanedai Station (Namboku line)
Official park website in English
PHOTO GALLERY TEIEN ART MUSEUM GARDEN:
VIDEO FEATURING THE SOUND OF CICADAS:

EDITORIAL UPDATE:  This post first mistakenly called it Shizen Kyoikuen Park.