Back to cycling the Palace, slowly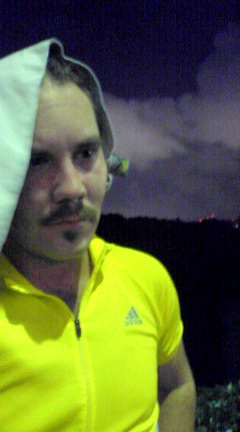 FULL RIDE STATS:
Distance: 15.78 miles

Time in motion: 1 hour 1 minute 48 seconds

Average speed: 15.3 mph

Max speed: 26.7 mph
3-LAPS STATS:
Distance: 9.36 miles

Time in motion: 31 minutes 14 seconds

Average speed: 18.0 mph 
This was my first cycling, or real exercise of any kind, since August 7th.  August was largely rained out in Tokyo.  I heard it was the rainiest August on record, maybe.  So tonight it felt very good to get back in the saddle again, well, it felt good until I hit that head wind on the descent part of the
Palace
loop, and then got slowed down by traffic as usual.  Then of course there is the very curious fact that I
always
 seem to eat green Thai curry on the nights I go riding!  As anyone knows, this meal is prone to making me
throw up
!
So this time I wanted to avoid such messiness, so no new record times tonight or anything.  And my legs actually felt like they hit a wall of some sort on the third lap out of saddle ascent.

Oh well, that's what happens I guess when one atrophies for a month.  There will be no more of that though as long as the rain behaves itself and falls on Monday nights, or Friday nights instead of the mid-weekday nights.
I was doing pretty good on the first two laps, and unofficially I did each of the first two laps in exactly the same time!  10 minutes and 2 seconds for each lap.  Obviously though the third lap was the anchor.  There was more traffic on that lap in my defense, but also the aforementioned thighs hitting some kind of wall type object.  And nausea was in my mind (and stomach) for the final three minutes of the third and final lap.
New records will have to wait until a non-curry night when I'm back in form!