Weezer live in Yoyogi Tokyo Japan 2008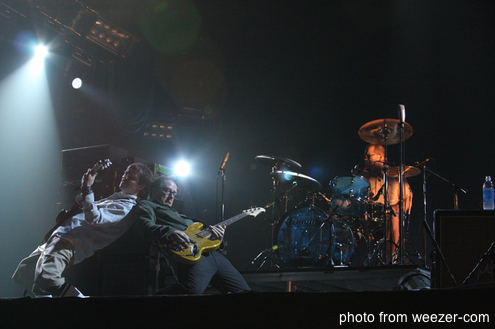 Weezer was one of the few remaining favorite bands of mine that I had never seen live in concert.  That was remedied when Aya and I went to see them play the Yoyogi Gymnasium in Tokyo, Japan this past Monday night.  It was a 9,000 fan seated venue.  We were up on the first level to the right of the stange, a decent vantage point, once the disappointment of seeing Weezer from a seat had abated somewhat.  Even on their own official website post of this show, Weezer themselves expressed disappointment that the venue insists on having seats on the floor.  Rock concerts in Japan lack energy in general as compared to those in the U.S., so the seats didn't help that much, but me, Aya and a few other j-dudes around us still managed to rock out.
The show kicked off surprisingly with what Weezer called a "Hootenanny," which was like 10 local Japanese musicians joining Weezer on a small stage right in the middle of the crowd to perform three Weezer songs.  It helped a lot that Rivers Cuomo showed surprising competence with Japanese, well at least enough to talk a bit and get laughs from the crowd.  He's definitely a rock star.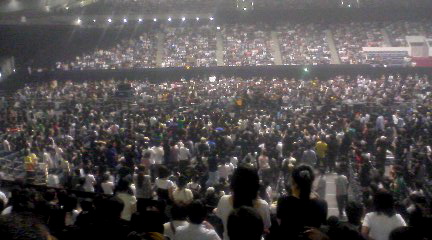 The Hottenanny is going on in the middle of the above photo.  Right from this small stage Weezer ran all away around the gymnasium and burst out onto the main stage and kicked off the concert formally with the song "Dreamin'" off their latest (red) album.
Here is the set list as best as I can remember it (missing many songs):
Beverly Hills (last song of Hootenanny)
Dreamin' (opener)
a couple junk songs
Why Bother (really kicked off the show)
Hashpipe
Buddy Holly
Pink Triangle
other not first-rate Weezer songs
My Name is Jonas (highlight of the set)
more junk
Keep Fishin'
Suzanne
lame songs
Troublemaker (last song of main set)
Encore:
new junk song off red album
Say It Ain't So (somewhat uninspired)
Automatic
The Greatest Man That Ever Lived (ended the show well actually)
So I am sure you can already see the huge, glaring omission of the single greatest Weezer song, and my personal favorite non-Beach Boys surfing related song, "Surf Wax America."  I was devastated they didn't play it.  It's the only song I had to hear them play.  And they didn't.
Sure, "My Name Is Jonas" kicked maximum ass.  Totally.  I was rocking out full on, as much as one could standing in a narrow space between seats surrounded by people just standing, or sitting.  Two young j-dudes a few rows down were going crazy, so that heartened me and I felt at least they got it.  Aya too of course was rocking out.
Like when Pearl Jam plays songs from their album TEN, like "Evenflow" or "Alive," Weezer too is invincible while playing songs from their debut "blue" album or from Pinkerton.  Even the Japanese crowd was infused with energy during "My Name Is Jonas."  How I would have loved to have been shoulder to shoulder though with other dudes head banging to each guitar riff.
I definitely want to see Weezer again, in a smaller venue, and in the U.S.  Got to hear "Surf Wax America" to heal all frustrations from being surrounded by the corporate world in Tokyo.  After all, I have literally taken my board to work while others were taking their car, and as they ran out of fuel, I, of course, was still afloat.