Shizen Kyoikuen Park in Meguro, Japan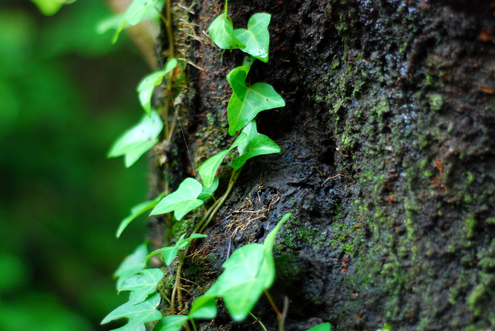 Though it took two trips to finally make it to Shizen Kyoikuen Park actual, in Meguro, Tokyo, Japan, it was well worth the effort as it is a unique Tokyo park/garden experience.  The full name of the park translated into English is the mouthful, "The Institute for Nature Study National Science Museum Tokyo" as it says on the English brochure handed to me at the entrance.  Ever since I was a little boy, I have been totally into getting up close and intimate with forests, so I was stoked to soon discover upon entering the park, that this wasn't the usual pond and pagoda setup of traditional Japanese gardens, but rather a 100-year old forest with long paths—a forest too large to seemingly still exist in Tokyo.
With me as always were my trusty Nikon D80 and of course Aya too! The rather thick forest canopy caused me to soon switch to my fast Nikkor 50mm 1.8D lens, which I used for most of the shots below.  This allowed me to get quite a few deep DoF shots, as pictured above.  Later, we entered a part of the park that opened up and I switched to my Nikkor 18-200mm VR lens, which was used for the wasp photo below.

There were few people in the park this day, and a near majority of the ones that were, were photographers toting one or more DSLRs each.  There was even an older Japanese woman, an obasan, pulling a suitcase of camera gear behind her over the very rough paths of the park.  It's really a great park for macro photography (I don't have a true macro lens however…yet).  
But all camera talk aside, this park has an oldness to it I haven't felt in any other park of any size within Tokyo-to.  Aya is very good at pointing out flower and tree signs in Japanese and telling me about them in English.  She showed me one tree that its sign said was over 300 years old, and that people in the past thought it looked like a snake.  I am fascinated by such small trivia as this.  I of course had to lay a palm upon this tree's broad trunk.
I can't recommend this park enough as an escape within the limits of Tokyo.  And also right next door is the excellent Teien Art Museum Garden (and museum).  I highly recommend both, especially for long-time Tokyo residents who have never been to either before.
SHIZEN KYOIKUEN PARK PHOTO GALLERY:
SHIZEN KYOIKUEN PARK INFORMATION:
HOURS:

 9:00 – 4:30; 9:00 – 5:00 from May 1 to August 31 (Last admissions 4pm)

CLOSED:

 Mondays (unless a national holiday then Tuesday); Dec. 28-Jan. 4

ADMISSION:

 ¥300 yen for adults, school children and seniors free!

Address:  5-21-5 Shirokanedai, Minato-ku, Tokyo