Genny's Post-Wedding Party for JB and Anna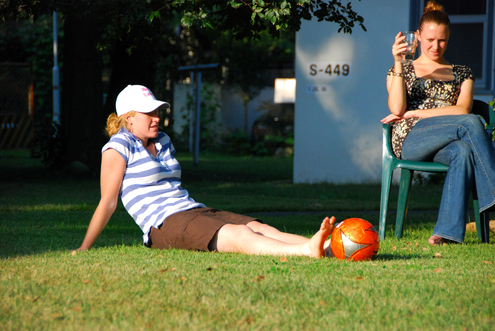 First, congratulations to JB and Anna who got married on September 06, 2008 in Cape Cod, Massachusetts (one of my favorite places in the world).  Second, thanks to Genny and the rest of the Foote Family for once again opening their home to us.  Eleven of us plus the Foote Family got together on a beautiful October Saturday afternoon at the Zama Housing Complex in Kanagawa, Japan to have a post-wedding-reception (I believe that was the moniker?) party for JB and Anna.  Things kicked off with a little baseball playoffs watching, then some backyard sports, and then the big surprise of a "make-your-own-pizza" lunch.
Anna's family recipe was used to make the homemade pizza dough, which each of us rolled on our own, then handed to Genny who cooked it on the outdoor BBQ grill!  This was a very fun system for getting everyone fed a satisfying lunch.  The family recipe crust was very tasty.

Of course there were Foote Family Famous baked goods as always.  This time super tasty cupcakes and chocolate chip cookies.  We all chipped in something though, from me and Aya's karaage, to Luke's salad, to Hitomi's red-bean pudding, and so on and so on.
There were plenty of backyard sports going on as well:  horseshoes, soccer, football, Nerf missile, etc.  One activity of note was a game using a soccer ball called "bounce," where if a participant failed thrice, they had to offer their posterior as a target for malicious soccer ball strikes!  (see photo of Luke below).
I look forward to the next Foote Family party–Halloween–and wish JB and Anna well and hope to visit them sometime on the Cape!
Please feel free to post your comments about the party below, and links to any other photos of the party in the comments also.
POST-WEDDING PARTY FOR JB AND ANNA PHOTO GALLERY: