Mello ride around the Imperial Palace in a light rain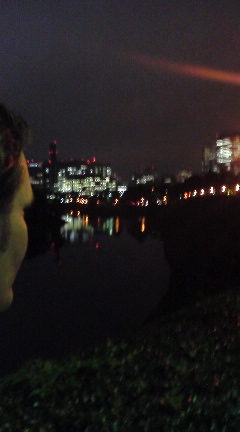 FULL RIDE STATS:
Distance: 15.85 miles

Time in motion: 1 hour 00 minutes 51 seconds

Average speed: 15.6 mph

Max speed: 26.9 mph
3-LAPS STATS:
Distance: 9.40 miles

Time in motion: 32 minutes 22 seconds

Average speed: 17.4 mph
Tonight was a totally different feeling ride around the
Imperial Palace
.  For one, I never looked at my cycling computer while doing the laps.  This is a radical change.  I am normally obsessively looking at my time and current speed, calculating how I'm doing on each lap in my mind.  
Tonight I was free.
I decided right away, on the fly, to not look at my cycling computer.  The cool October air helped free my mind as well.  All I did was keep my eyes fixed on the road in front of me and my mind thought of only one thing—keep the cranks in motion.  I've never had such a single-mindedness like that cycling around the palace.  It felt great. 


It seems I always eat green Thai curry before a night ride around the palace, as once again I had a belly full of it as I set out from my apartment building at 10:21pm.  However, as my stats show, I wasn't exactly flying around the palace this time, as it was a "mellow" ride, therefore I never even came close to feeling any nausea.  
Although I was significantly slower this time than last, I rode much stronger.  I got up out of the saddle fairly easily for all three ascents up the backside of the palace loop, where last time I couldn't even finish the first ascent out of saddle.  
What a difference two weeks makes and a 60-mile ride thrown in for training!

As nothing can ever be perfect or without incident, on the third and final back ascent of the loop climb, I was up out of the saddle powering up it, just a few meters from the top when I suddenly heard the distinct sound of pedals churning.  For an instant, I thought to myself, "how could another bike be passing me?"  I hadn't seen anyone near me at the bottom of the ascent.  Sure enough, a second later some big dog on a full-carbon frame road bike powered passed me, also out of the saddle, passing me just seconds before I reached the top.  It was a bit mentally disappointing.  There was no chance of keeping pace with that dude.
Then my less than fast lap times were a slight disappointment.
Then it started raining lightly on the final 12-minutes of the ride home.
Such are things in Tokyo.  
Still, I'll remember that focused, single-minded feeling I had while riding for awhile.