Tokyo Vegetarian Festival 2008 in Yoyogi Park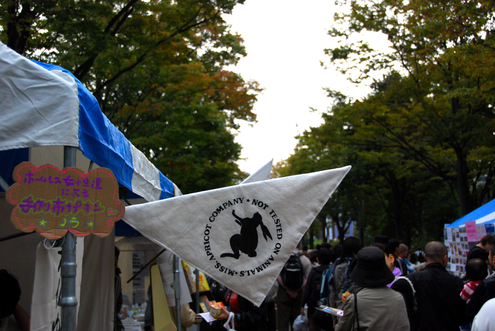 I believe I went to the Tokyo Vegetarian Festival last year as well, and made the same mistake this time as last time as lingering too long in some other event I thought was the vegetarian festival, but actually was selling meat and other disgusting things like that.  Once I found the correct festival, however, I was as pleased as ever for the extremely rare chance of being surrounded by an atmosphere of vegetarianism & veganism and animal rights.  Someone even used my own line on me of "of course!" when I asked if a product was vegan!  Awesome!
The Tokyo Vegetarian Festival 2008 was not that large, but had just enough booths to give me hope that there is a somewhat significant pocket of people who believe in non-violence enough to commit their diet to it.  The variety of booths was good.  There were of course plenty of food booths where you could order and eat on site, mixed with booths selling dried and packaged goods.  
I was most pleased with the number of booths promoting animal rights with graphic posters, and even a no leather poster!  Everyone knows about fur, so I think leather is what is needing to really be anti-promoted.  Then again, the amount of fur I see Japanese women wearing in Tokyo absolutely galls and sickens me.  I can see how some activists end up throwing blood on people wearing fur.  
I got a lot of good, new info from the vegetarian festival.  Thank you to the organizers!
TOKYO VEGETARIAN FESTIVAL 2008 PHOTO GALLERY: