Halloween in Nikko Japan Fall 2008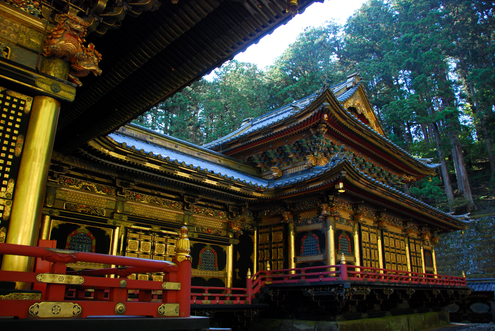 After five and a half years in Tokyo, Japan, I finally made my first visit to Nikko.  I had heard about Nikko many times, as it's one of the premier tourist destinations in all of Japan, as well as being a World Heritage Site.  I heard of monkeys running wild, and even taking baths in outdoor hot springs.  I was expecting a huge hub-bub.  Of course, like most things, my expectations and reality were nowhere near matching.  I found Nikko to be a small, reserved sanctuary of temples and shrines tucked away amongst a forest of tall trees.  And no monkeys.
I expected Nikko town to match its reputation as a major tourist attraction with the coinciding tourist trap type places, but instead I was very surprised to find the area between Nikko train station and the temples themselves to be nothing more than a humble kilometer of road with a few modest shops on them, all of which were nearly closed by 8pm!  
Aya and I drove up early Friday morning having both taken the day off.  And why not, it was Halloween after all!  This allowed us to almost have the whole of Nikko to ourselves, relatively.  We could explore and ponder around the most popular spots as well as the lesser heralded ones without having to shuffle past dozens of other observers.  In a sense this almost made Nikko feel lonely, which may be an intrinsic feeling to the place no matter how many people were there.  Whichever is the case, it made for an unusual, yet somehow appropriate place to spend Halloween.  

There were no people in traditional Halloween costumes, but there were many figures around warding off evil.  Pictured above are the monkeys we all learned about in grade school that heard no, nor spoke any, or even saw any evil.  
Aya pointed out and explained many of the intricate details of the temples and shrines, and the meanings behind the patterns carved into their walls as well as what guardian statues represented what.  Her knowledge and explanations greatly enriched my experience of Nikko, that otherwise would have been just all ignant, but pleasant, observing.  
If you can, go to Nikko on a week day and spend some quiet moments with it.  I was glad I had such a chance.
NIKKO JAPAN FALL 2008 PHOTO GALLERY:
NIKKO JAPAN FALL 2008 VIDEO:

SOURCES FOR PHOTO DESCRIPTIONS: