CYCLE MODE international 2008 Tokyo, Japan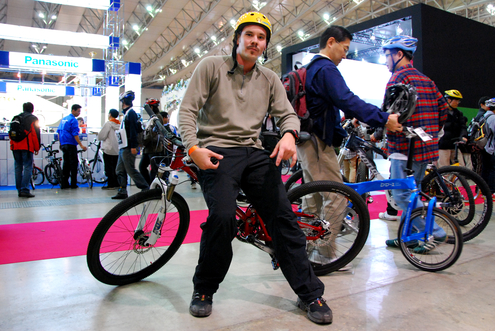 Thanks to a tip from a student semi-interested in cycling, Aya and I were able to spend a very exciting Saturday afternoon surrounded by all things bikes at CYCLE MODE international 2008 at the expansive Makuhari Messe exhibit space.  This even was better than I expected, and I ended up feeling totally stoked after having demo-ridden three very expensive bikes on the road and mountain biking mini-tracks the event organizers had setup.
All major cycling companies and bike makers had very large and expensive looking booths on the floor.  Being a Trek loyalist, of course I spent the most time there, and even took out a ¥500,000 Trek Madone 5.5 Pro.  I have to admit this was my first time to ride a real road bike since I was a kid, and it's a whole other world from my Trek 7.3 FX.  The Madone is just infinitely lighter and more responsive to the slightest movement.  I felt like I could control it just by thinking about it.

I next to out a run of the mill ¥100,000 Jamis mountain bike that had a really poor front fork.  Riding over the mountain biking mini-track was a very bumpy experience.  Not so when I cruised out on a ¥350,000 Mongoose dual-suspension bike next (see top-most photo).  This was also my first time ever to ride a dual-suspension bike, and the verdict?  I like it!  It was like pedaling a Cadillac, a real, real plush ride.  I was just hopping in the pedals the whole time really digging the spongy feel of the ride.  I did three laps of the mini-track on this Mongoose, and went for it on the jumps on the last one (see photo gallery below).  
Aya and I both had a great time at CYCLE MODE international 2008.  The ability to demo ride such expensive and diverse bikes made the ¥1,000 admission cost well worth it.