Tokyo Imperial Palace Autumn Scenes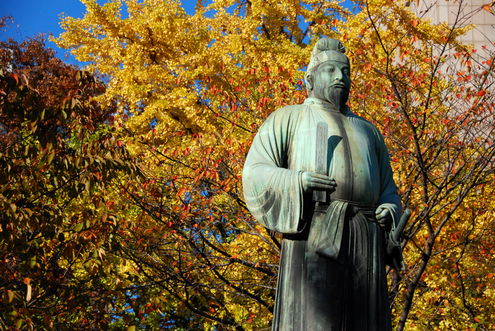 I was fully intent on cycling to Ginza to take some more candid street photographs on a beautiful, sunny fall afternoon in Tokyo that would have been a crime against nature to spend indoors.  However, as I turned of Shinjuku Dori in front of the Imperial Palace of Tokyo, I saw all the ginko trees had turned yellow and that a few photographers were taking photos of them.  So I thought, I should too.  I liked it so much I never left the palace area, and thusly never made it to Ginza.  I like how my afternoon surprisingly turned out though.
This afternoon romp coined a new phrase, "cyclo-photography," which is the process of using one's bicycle to travel between semi-nearby photo spots with one's camera being stowed in the handlebar bag for easy, quick and frequent access.  Tokyo is best seen by bicycle by the way, by far.  
I started on the west side of the palace taking in the great sweeping view of the moat as it falls down toward Marunouchi.  It's my favorite view in all of Tokyo.  I proceeded eastward finally ending up at the, I feel, little known east garden of the Imperial Palace.  I, myself, went there only for the second time, but it is a real hidden treasure with few people and great open grassy areas, perfect for lying down on in the sun (see above photo).  Of course I plopped down on my stomach and felt the warmth of the heated ground and the joy that comes with touching that much of the Earth that directly.  I was ecstatic.  It felt like the best hug you could ever get from the person you love most in the world (well, almost as good).  
I lied flat on my stomach for a good ten minutes.  There was no reason to move.  I'd look around with my naked eye at the micro-world within a few meters of me, then put my eye to my D80 and look at the distant world through my zoom lens.  I felt like part of the ground.
TOKYO IMPERIAL PALACE IN AUTUMN PHOTO GALLERY: