Iwaidou hidden Buddhist Temple of Chichibu Japan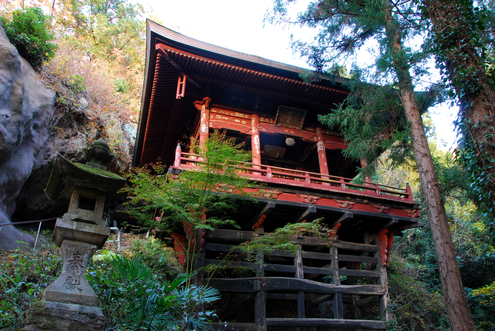 I came to call it, "Iwaidou, the hidden Buddhist temple of Chichibu forest," for hiking through the forest toward it, the temple appears all of a sudden, and appears before one's eyes to have been dropped in from the heavens, rather than built by the hands of simple men.  Iwaidou is preceded by an equally startling "treehouse prayer wheel temple," as I named it.  On this late November afternoon, Aya and I had all of this pretty much to ourselves, which made for a very tranquil, escapist pilgrimage in an autumn forest.
We started from Chichibi station on foot, first walking past an old mill nearby then up a steep hill to a great children's playground, which we made good use of ourselves.  We then had lunch upon an open, grassy hill (pictured in gallery below) before formerly entering the forest and foothills that are home to Iwaidou.

This was a pleasant forest trek, with only a few ascents here and there, but with one somewhat tough 200m ascent.  After that, the signs of the hidden temple of Iwaidou begin appearing in the forms of smaller shrines and a few lone statues sitting quietly under their canopy of golden forest leaves (see above photo).  We did not disturb them.
Then, behold!  Iwaidou appears! (after climbing an out of place metal staircase)  Tucked up tightly against the back of a large, mostly large stone hill, if not for that jarring metal staircase, one could walk right by it if approaching from its rear.  However, just turning one's head to the left offers a majestic and serene, if not aging, structure.  
Iwaidou, the hidden Buddhist forest temple of Chichibu, offers a magical afternoon not that far from Tokyo.