Faces of Tokyo Series: Country Line Dancers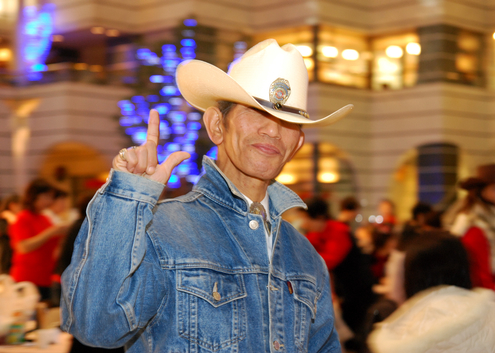 The only reason why I know about the country line dancing scene in Tokyo (and it's much bigger than you might think) is because one of my longtime private students is the Queen of Country Dancing in Japan (my given title for her).  The name she uses is Lily, which suits her well.  Another longtime private student of mine, Mami, is one of the stars of the country line dancing scene.  They run CLUB HOWDY, and on this past Sunday they threw their largest dancing event of the year, the Club Howdy Christmas Party (attended by 220+ people).  They hired me to take group photos of the dancing teams and other portraits.  This was my first official photography job of my burgeoning photography career!
In preparation for this job, I bought the excellent Nikon SB-600 Speedlight.  I have long thought flash was just for amateurs because I had no idea how great a real external flash could be.  I am now a total believer.
Aya was my invaluable assistant on this job.  The groups of dancers started coming all of a sudden.  I felt a rush of nerves and excitement.  I had no idea what I would do or how I would do things, but it all happened so fast I just had to step up and start pretending like I knew how to take good group shots.  And by thus pretending I quickly grew confident and my photography instincts kicked in and I was thoroughly making sure no one's face was obscured as they posed in groups of five, ten and sometimes fifteen or more!  Again Aya's help was immeasurable giving the countdown in Japanese, though she said "3, 2, 1" in English!  This allowed me to concentrate on framing the shot and holding my Nikon D80 steady until I pushed the shutter.

Since many of the dancers were wearing cowboy hats, it made it a real challenge to make sure no faces got blocked.  I learned that some groups knew how to pose as a group without any help (see above photo), while with others Aya and I had to do some significant rearranging to get a good group shot.  
As soon as the formal part of this photography gig started, I knew without a doubt that this is how I need to earn my living in the future.  All the people who talk about "loving their work," I could never understand them.  After just a few minutes on my very first photography job, I could understand them perfectly.  You have to do what you love, if not, then you are truly working in the grinding it out sort of way.  And who wants to work?  If you do what you love as your work, then it's not really work.  
CLUB HOWDY has dance classes of varying levels and styles (not just country line dancing) all around Tokyo.  A few of the instructors can speak English.  For more information check out their site:
MORE in the FACES OF TOKYO SERIES:
FACES OF TOKYO COUNTRY LINE DANCERS PHOTO GALLERY: