Daily Photo: Can she really see me?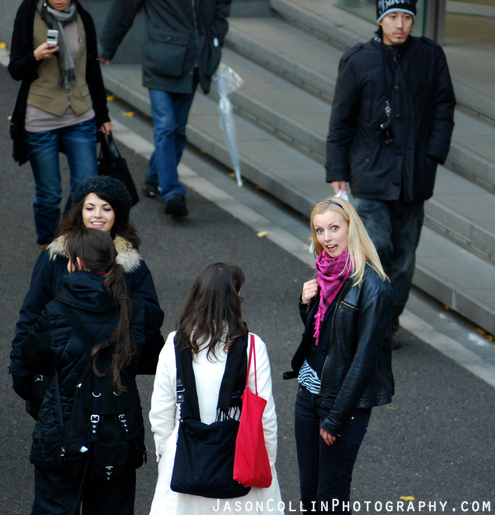 I was walking over my favorite pedestrian bridge in Shinjuku with my D80 and Nikkor 80-200mm out when I saw this group of model-looking western girls, quite a rare site, even in Shinjuku.  I actually think I recognized two of them, or at least the blonde girl, from a few days earlier when I was walking to Shinjuku and passed them.  Naturally I paused and snapped a few shots.  Maybe I was taking shots of them for about a minute, waiting for people to pass by to get a good clear shot.  Now, does the blonde girl's expression say I see you and let me make a nice funny face for you?
I was pretty far away and high up, so I totally didn't expect to get caught.  Glad I did though and glad the blonde girl was so cool about getting photographed.  Probably she's a model and used to it.  
KIT USED:
Nikon D80

Nikkor AF ED 80-200mm lens
EXIF DATA: