January 3, 2009
Chion-in Temple Enormous Bell New Year's Eve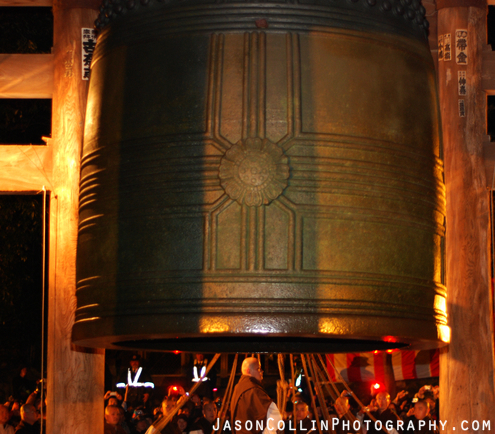 Totally by accident, Aya and I were able to witness one of the most special New Year's Eve traditions in Japan–the ringing in of the new year by 17 monks at Kyoto's Choin-in Temple.  This was one of the most impressive things I've ever seen.  The bell the monks were ringing is the largest in Japan, weighing in at nearly 80 tons and having a diameter of some 2.7 meters.  It's also very old, being cast way back in 1633 C.E.
Of course there was a huge crowd wanting to see this.  It was like a rock concert really, the pushing was constant and at times you were even swept off your feet and had no choice but to flow where the tide of people took you.  Luckily, at the very end I was able to get to the barrier fence and get a few unobstructed shots.  Aya managed to get some steady video with the Xacti HD700 as well.
The monks chanted while ringing the bell.  First they would all chant at a barely audible level, then the main monk, the one with his back to the bell, would give out a cry and the other monks would chant louder and pull quicker (although they seemed to be making little real effort), then they would all in unison say sorei and the main monk would literally fall over backwards pulling the fulcrum rope and the ram would thud into the bell bringing forth a lingering ringing resonance.
CHOIN-IN MONK'S BELL RINGING PHOTO GALLERY: 
CHOIN-IN MONK'S BELL RINGING HD VIDEO:

Filed under Featured, Japan, Night Shots, Photography, Video