Faces of Tokyo Series: Shimo-kitazawa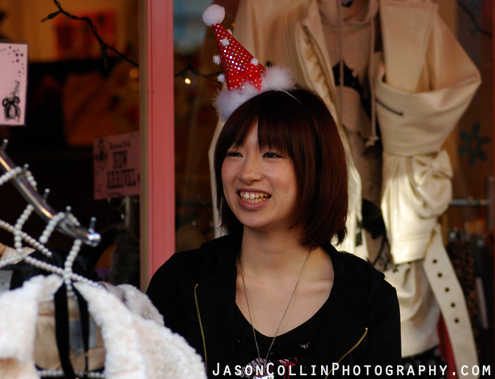 I wanted to try something new for my next FACES OF TOKYO SERIES (Takadanobaba, Kabukicho) instead of another set of photos of people just walking on the streets.  I had the idea to take photos of people shopping inside stores while I was out on the street.  I decided on Shimo-kitazawa as it has almost countless little shops on small side streets, plus the people who frequent this area are usually more hippie/bohemian/hipster.  This proved to be a very challenging thing to do from a technical photography perspective and did not turn out so successfully, but I thought I would still share them to show that one should not always play it safe with one's photography.
Shooting inside shops sometimes meant shooting through glass store front windows, or into dark shops, or with various obstructions in the way.  I had to use an ISO of 1600 on all shots to get any kind of sharpness, and the result was noisy photos (making me think I need a D300 with better high ISO performance!).  
KIT USED:  Nikon D80 with Nikkor AF ED 80-200mm f/2.8 lens