LOST 5×03 "JUGHEAD" — SPOILERS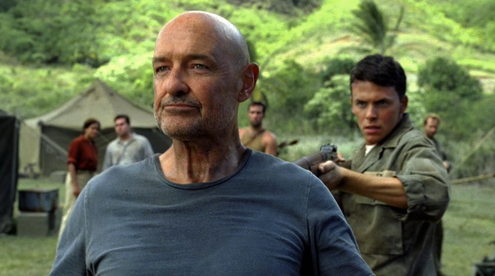 There are no spoilers in this part until after the break.  Click on to read my thoughts and comments on LOST 5×03 "Jughead" and rate the episode in the poll below.  
WARNING SPOILERS
WARNING SPOILERS
WARNING SPOILERS
This was definitely a bridge episode, but a very interesting bridge to cross.  A lot of character development and backstory was provided, especially for Faraday and Widmore.  I think the best moment of the ep was when Locke said "nice to meet you" to Widmore.  
THINGS I LIKED:
Every time Desmond said "aye"

Desmond and Penny living on the sailboat

Faraday possibly being a dick, not just a weak geek

Juliette's perpetual heaving

Locke calling himself the "leader" all the time

Finding out that Richard Alpert is old, very old, and that he was "always there"

The Others using Latin as a secret language

Of course the reveal that Widmore was on the island in his youth
THINGS I DIDN'T LIKE:
Desmond just being able to waltz into Widmore's office and dictate terms, why would Widmore allow that?

For some reason don't like the fact Desmond and Penny had a kid, annoys me!

Charlotte getting sick just as Faraday says he loves her, come on!

Sawyer just saying annoying things for no reason, i.e. "Frogurt getting taken out with an arrow," or something like that, seems too much to diss a dead person.  They need to find a role for him instead of just spitting out nicknames and possibly getting randy about Juliette's ample bosom (that's my job).
Everyone should read Herc's, of AICN, small write up of this ep also.  He points out a few cool things, like how Widmore, Desmond and Penny's kid, and of course dead Charlie all have the same name.  
I am very interested to learn more about Widmore now, especially about his time on the island.  What I really want to know, though, is WHY does everyone like the island so much and why do they want to "possess" it?  I hope that gets defined clearly by show's end.
So a good character development episode, with a tiny bit of action.  I can say I didn't miss Jack or Kate at all.  Maybe they are just dragging the show down now?  Widmore and Faraday seem very interesting and capable of carrying the show, plus with Locke and Desmond operating on and off the island.