LOST 5×04 The Little Prince — SPOILERS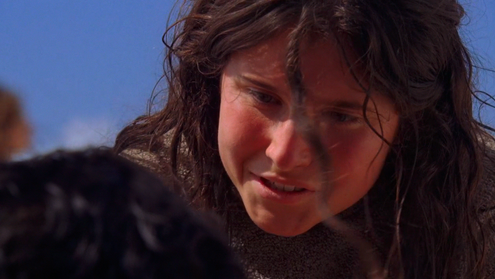 Umm, was that the worst episode of LOST ever?  If it wasn't, then it certainly has to be in the bottom five of all time.  45 minutes of creepy music and mystery face reveals does not an episode make, not when there are precious few hours left to tell the final chapters of the LOST story.  
SPOILERS
SPOILERS
SPOILERS 
I liked the music in this ep right away.  Liked the badass score when Sawyer said "we're going to the Orchid."  And then not much else.
WHAT I LIKED:
the up-face shots of Juliette

Hurley in an orange prison jumpsuit

Ben seemingly double-crossing everyone again

the aforementioned music

how pretty pre-crazy Danielle was
the hatch light shooting up into the sky
Kate for the first time ever appeared to be slightly pretty
WHAT I DIDN'T LIKE:
the total lack of progression of the story

everyone and their mother getting nose bleeds

random rafts and wreckage appearing right in front of Locke & company

Ben seemingly double-crossing everyone again

Jack for the love of Buddha not telling Kate any of the reasons why he was doing what he was doing

the TOTAL lack of chemistry between the actors still on the island now

Anytime valuable screen time is wasted showing Aaron

Kate and Claire birth scene revisited
I wonder if it will be just me who didn't like this episode, but I can't see how anyone could have liked it.  Just a bunch of "reveals."  Wooo, Claire's mom, and she's just a red herring.  Oooh, Jin, they trivialized his death scene from last season by having him still be alive.  Wooo, Danielle arrives on the island.  Big whoop.  These were all just flashbacks which I thought we weren't going to get anymore.  They just re-gimmicked the flashback system by having these time jump light flashes.
Faraday literally had the same expression on his face the entire episode, and so did everyone on the island.  Juliette looked bored.  Sawyer is not hitting the acting notes to me.  Just spouting one liners then faking concern about Kate.  You mean to tell me the real Sawyer wouldn't be thinking about laying claim to the suddenly unclaimed Juliette?  Come on!  
Please, no more close-ups of Charlotte's face.  It's whiter than the moon and it's lack of defined edges freaks me out.  Put a scarf on her or something.
Not a single real redemptive thing about this ep.  Fail?