LOST 5×09 NAMASTE (spoilers)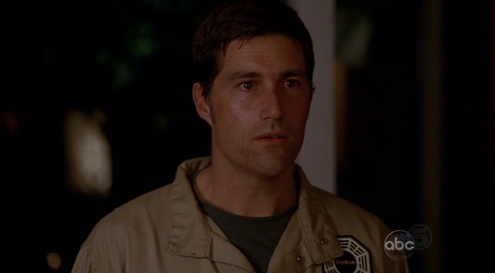 This will probably go down as one of the top ten episodes of LOST I believe.  This was also a continuation of the undefinable nature of many of the episodes in the fifth season.  I guess the best description of this episode would be as a reunion type episode, but there were some of the best scares in an episode of LOST yet and also a premiere-worthy opening.  At this point I have no idea what the objective of anyone on the island is, or what the end game is.  
WHAT I LIKED ABOUT THIS EPISODE:
Sawyer calling Jack out for his "reaction" decisions

Sawyer doing some excellent thinking on his feet

Sawyer keeping his cool when confronted by Jack

I guess everything about Sawyer in general!

All of Hurley's dialogue, "dudes" in particular

Sun getting the best of Ben

The scares when Frank and Sun entered the forest

Juliette's eternally warm smile
WHAT I DIDN'T LIKE ABOUT THIS EPISODE:
The kid at the end predictably being Ben

That other welcoming guy who is Jimmy on Mad Men, his face just pisses me off

Ben getting bested by Sun

Christian Shepard being a continued Deus ex machina in episodes
So I guess now the Oceanic 6 can have a chance to shape the growth of a young Ben?  And thus later the future?  But what are Faraday's thoughts on what can and cannot be changed?  And I guess Faraday is off the island now, or dead?  I guess he just took the sub back.
Sawyer really is in control and in charge.  Totally diffused Jack and put him in his place.  PWNed is the term I believe.  
I really want to know what Hurley's work assignment is!
I have no idea what LOST is about anymore or what the show is moving towards.  Essentially all of last season and this season continues to be people shuffling back and forth to the island.  This episode was very interesting and the 30 years earlier was a very cool gimmick, and I am enjoying the ride, but I am not seeing the big picture anymore.  
I thought Ben wasn't allowed to return to the island?  I thought he said when he was leaving last season that he wouldn't be able to come back?  Maybe that was because seeing your own past self could be very bad?  
I just checked what the two-part season 5 finale is titled.  Very interesting.