LOST 5×10 HE'S OUR YOU — SPOILERS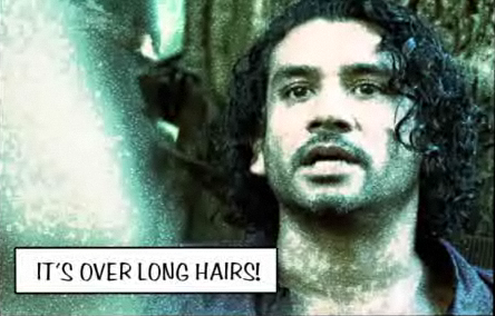 LOST returned to its format roots with this episode for the most part.  It may have been the new environment in which I watched this episode, but I found it to be not very compelling and literally all filler until the final scene.  I feel LOST has outgrown its old flashback formula style and this return to it was like hitting the brakes, however interesting that filler may have been.
***SPOILERS***
WHAT I LIKED:
the flaming van rolling into Dharmaville

seeing more of how Ben got to be Ben

Juliette's smile

Sayid keeping his promise to Ben about what would happen if he ever saw him again

Sawyer's line about 3 years of no houses burning but in one day of ya'll being back…
WHAT I DIDN'T LIKE:
Sawyer's large and in charge persona lasted only a SiNGLE episode

Sayid getting duped by that female bounty hunter (NO woman ever approaches any man in a bar unless she's up to something)

the use of filler flashbacks and the very narrow list of characters featured in this ep

Sayid predictably killing young Ben at the end

Sayid not just getting executed at the end of the ep as the reason why he came back
Basically this was an entire ep just to have young Ben killed.  Did we really need to know why Sayid was in handcuffs getting on the plane?  Or that he was able to kill a chicken from a young age?  
My biggest question is one that was asked several times in this ep, why DID any of them return to the island?  So maybe Sayid had a purpose to kill Ben, but Jack?  Kate?  
On a side note, this was my first time to watch LOST in the U.S. for real, ever.  Even though I recorded the ep on my DVR and could fastforward through the commercials, I felt the change in viewing style to be a bit jarring, although the benefits of watching it on a 46″ HD screen were very apparent.