Daily Photo: Snell Isle Apartment HDR Twilight Sky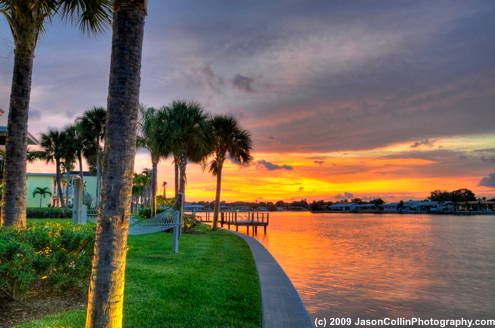 I saw some great sunsets while living in Tokyo, but I always remembered there is nothing quite like a Florida sunset.  I give Aya full credit for me being able to make this image.  She said the sky must be beautiful this late evening, and she was correct.  
We both grabbed our cameras and leashed Kiki (more on who this is soon . . . ) and headed out onto our back patio area.  I started with a different composition than the one one pictured above, before finally settling on this one.  I had been wanting to try an HDR sunset as well.  I am very pleased with how it turned out.  
KIT USED:  Nikon D300 with Tamron XR Di II 17-50mm f/2.8 lens mounted on a Velbon tripod
POST:  HDR made in Photomatix Pro, then edited in Aperture 2.0 and Nik Software Color Efex Pro 3 (the polarization filter is amazing)