A return to semi-real cycling in Florida!
FULL RIDE STATS:
Distance: 9.54 miles

Time in motion: 34minutes 55 seconds

Average speed: 16.7 mph

Max speed: 22.0 mph
I have ridden my Trek 7.3FX around downtown St. Petersburg quite a few times already, but since adopting Kiki (who?) a few months ago my cycling has been put on hold.  I was greatly inspired once again by watching the Tour de France.  Now, I have discovered a new 3-lap area of sorts similar in length to the laps I rode many, many times around the imperial palace.  Quick thoughts about riding in Florida?  of course it's hot, nice to have dedicated bike lanes, basically all roads are totally flat, at least one road cyclist is not elitist and friendly.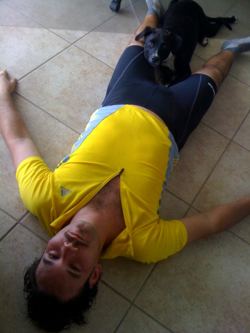 I have since refined and ritualized this ride in two subsequent rides.  I got my average speed up to a high of 18.2 mph, which I was proud of.  I only ride in front gear 3 and rear gear 7.  Only.  Even when I make my two U-turns I stay in 3-7 as a sign of not easing up at all.  Maybe I'll consider dropping it down to 3-8 for stretches?
Of course my new full-time math teacher job is going to put a big dent in my immediate cycling time.  I'll have to adjust to a whole new schedule again.  I want to soon ride on the Pinellas Trail too, one of the many cycling only roads that stretches for miles and miles.