Skimboarding 2009 Sessions 01 & 02 "Golden Flair"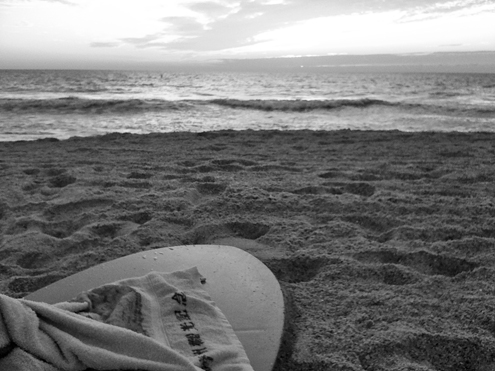 My 22nd season of skimboarding began and ended in 7 days.  True, I have been on my skimboard many times in 2009, but those were not skimboarding sessions.  This may seem unfathomable as one of the main reasons I moved back to Florida was to once again skimboard on my beloved Sunset Beach, the place I love most in the world.  This is testament to the challenges returning to the U.S. after a 9-year sojourn have inflicted upon me.
It does pain me to think I had only two skimboarding sessions all of 2009.  Yet I sit at my desk now in fulfillment, for this late afternoon I had a skimboarding session like I have not had this decade.  Last Wednesday's first official skimboarding session was marred with way too many people on what is normally a deserted Sunset Beach, as well as a number of other factors.
However, this Wednesday was glorious:  deserted beach, sunshine, and waves!  I can count the number of times on one hand that I have seen waves the size at Sunset Beach today–a steady flow of 3 to 4 footers.  This may sound small, but for the west coast of Florida, they are huge.
I could already sense driving to the beach that I would have a powerful skimming session, and indeed I did.  I knew ahead of time I would skim today like my life depended on it.  And I did.
I strode across the length of Sunset Beach toward my rightful strip of it.  I could feel the power of the large waves rolling in, and I quickly went through my stretches and grabbed my faithful Sander skimboard.  It was not hot today, and the Gulf of Mexico is cooling, yet I donned no wetsuit, wearing only my faithful Tavaru surf shorts.  I was never cold, for the warmth of excitement came over me right away.
So dominant were my skimboarding skills in the 90s, and so well did I know Sunset Beach, that I never wiped out for years.  Yet, sometimes I would get a scrape from some hard sand contact.  I would feel proud though and think to myself, "if you aren't bleeding, then you aren't skimboarding hard enough."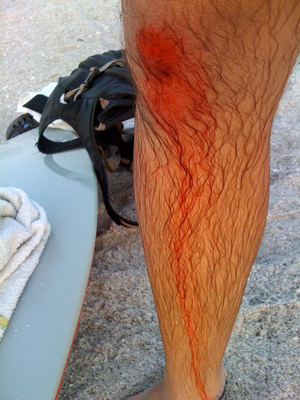 As I mentioned earlier, I set out today to skimboard as if my life depended on it.  Soon tearing down with the wind to the right, I had an unbalanced mount onto my board and dragged my right knee into the shells that lie just beneath the water's edge.  Blood began streaming out.  I paused not.  Down to my ankle went the blood.  I felt proud.  I knew that I had already been skimming hard enough.
The photo of my knee was taken only at the end of my skimboarding session, some hour later, still bleeding out.
Two rides after I suffered my proud cut, I had my best ride of this decade.  I immediately called it in my mind, "The Golden Flair."  The ride went thusly:  from high up on the shore bank, I leapt down toward a large wave coming in, a perfect mount onto wet sand started me at great speed, and then the crest of the wave loomed before me, the sun descending toward the horizon, and I pushed into a huge front-side flair sending a cascade of sea water over the setting sun glinting the water gold-sparkling to my eyes.  As my board turned back toward shore and I dismounted, I let out a "whoooo!"  I knew I just had had the best ride in a long, long time and that I had FINALLY officially returned to Florida.
No matter what disasters have come to pass in the past 9 months, I successfully returned to Florida because of that ride.  I came full circle and literally thought to myself, "I have now done enough in this lifetime."  They certainly tried, but they could not stop me on this occasion from once again returning to my beloved Treasure Island and proving that the Sea and I are still capable of being in Harmony.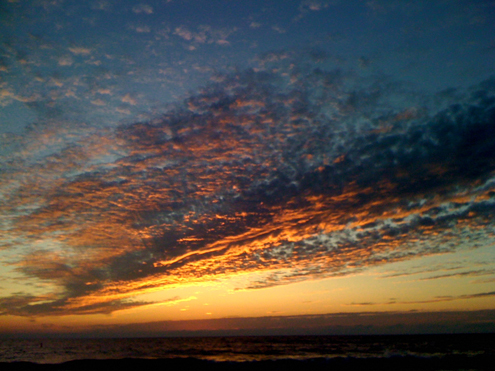 I had more good rides, but I knew I would have none better than the "Golden Flair."  I did not need to.  I was at the spot I want my ashes spread when I finally pass from this lifetime.  I was at the spot that was my home for Saturday nights in the 90s.  I was with many sandpiper friends.  
Some of them sat next to my stuff on the shore, others paced me along the outermost lip of the tide.
Then, as is my custom on my final ride, I ran as hard as I could, another fast front-side flair, and after dismounting I paused, looking thrice to the jetties, the waves, then the horizon.  I walked toward the shore, dipping my hand in the Sea for my final taste of it this year.
And that is how I concluded my skimboarding season for 2009.
******************
all photos with an iPhone 3G
music listened to:  Elliot Smith's "Speed Trials," "Punch And Judy," "Angeles"