LOST 6×04 "The Substitute"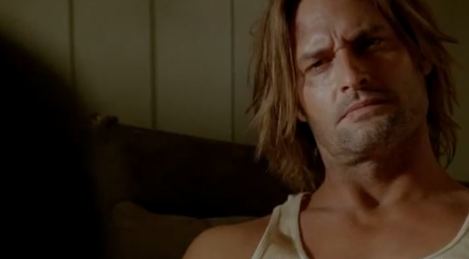 Now 6×04 "The Substitute" was an episode of LOST!  Could it have been all killer, no filler?…in direct contrast to last week's all filler episode.  Beware of SPOILERS beyond here . . . .
***SPOILERS***
Well, nothing like going to your ace, your clutch player, when you reach a low point, and by going with a Locke-centric episode, that's just what LOST did.  The first great episode of LOST was 1×04, "Walkabout," so Damon and Carlton provided us with some nice symmetry making the 4th episode of the final season Locke-centric as well.
What I liked:
Sawyer rocking out solo sans pants, nothing says rock bottom like exposing your bottom
Sawyer not being too far gone to not agree to go along for the ride with Dogen-Locke
Sawyer packing some heat, just in case
Locke being with Helen in the flash-sideways
No mention of damn Kate at all and her name not on the wall, sweet!
Further mention of "candidates"
Badass cave lair with inside joke on desk
What I did not like:
Ben as a European history teacher, though I did kind of like it
The random kid in the forest
Locke being stubborn and not at least going for the free consultation with Jack
The rope ladder breaking, hello cliche and predictable anyone?
Richard looking like a scared, wet rat–dude, Man up!  I started wearing blue shirts with green pants because of you, don't let me down
Unlike any of the other eps this 6th and final season, when the LOST at the end of the ep came up, it illicited an audible "damn it" from me in having to wait until next week for more.  I like no-pants Sawyer and Dogen-Locke teaming up.  They are good together.
Did anybody else expect Dogen-Locke to reveal some kind of high tech machine or spaceship/UFO thing when he held up the torch to show Sawyer why he was there?  I did.  So thought it was cool just a bunch of names scratched into the rock.
Loved the inside joke.
The Temple setting is now a dead spot in the storyline of the show.  I did not miss anything or anyone about the Temple.  Let Sawyer and Dogen-Locke get all the screen time for all I care.  Wonder why the Temple is the safest place on the island though?  Some kind of natural barrier to the smoke monster entering it like the sonic fence around the old Dharma village?
That one remaining commando chick, who is the same wench Pullo aggressively pounded in a kitchen on the show ROME, looked really good this ep.  I like how she carries herself, tough but still attractive.
I like how Frank just goes with the flow all the time, bury a body, alright, I'll help dig.
I also like Dogen-Locke not knowing if its Sun or Jin that is the candidate.
All in all an ep that could easily fit into the category of a classic LOST episode.
4-stars for me