4 hours of sanity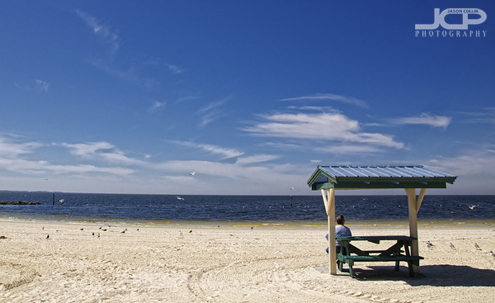 Due to a set of very unusual circumstances, I found myself with 4 hours of sanity today.  It was a preview to how my days will be once I win the lottery this year, except of course in the parking lot will be a Porsche 911 Turbo instead of a Saturn Vue.  I found myself being very grateful for something that should be a given, not an extraordinary exception.  Such are the ill things one is often trapped into when living in the world of Men.
There is absolutely nothing I like greater than traveling to some place I have never been before and having that feeling of discovery.  It used to happen often in my early years of living abroad, but much less so the past few years.
Nevertheless, I found myself behind the wheel on a brilliant Florida sunshine day, crisp not yet spring air, with Kiki sniffing out the window as is her greatest traveling thrill.  I saw on a map the night before a place called Crystal River Preserve State Park.  This is the place I headed for expecting a formal state park with ranger station, info board, pamphlet, but there was none of that.  Just two long winding roads leading to the coast, independently of each other.  I took the northernmost one first.
Stopped at what turned out to be a boat ramp surrounded by a nice, finite park with a t-shaped pier.  Saw several manatees swim by then gave veteran Florida travel advice to a very nice older British couple.  One of the other great things I like about travel is chewing the fat with people I meet out on the Road.  I hope they enjoy their time in my suggested destination of St. Augustine, after they visit Kennedy Space Center of course.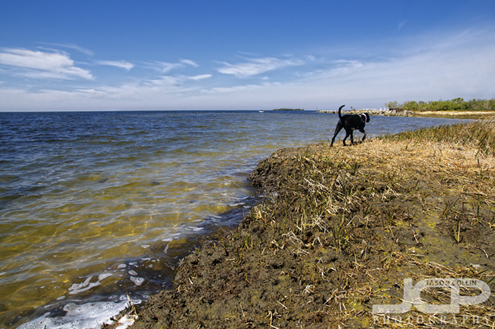 The grasslands Kiki and I ran free on reminded me of places I explored as a child in Cape Cod.  I was quite ecstatic to have been lead to this place.  Kiki being a lover of tall (for her) grass and new smells I believe was ecstatic as well.
The 4 hours of sanity continued thusly.  For a good 45 minutes of that time I just sat on the white sand beach (first photo) doing no-thing.  It really, really feels great to do no-thing.  Kiki did dig a few holes before calming down herself and lying in the sand with a nose that looked like it was dipped in sugar crystals.
It was a 4 hours I used all my senses.  A time my eyes almost never left the horizon . . .