LOST 6×11 "Happily Ever After"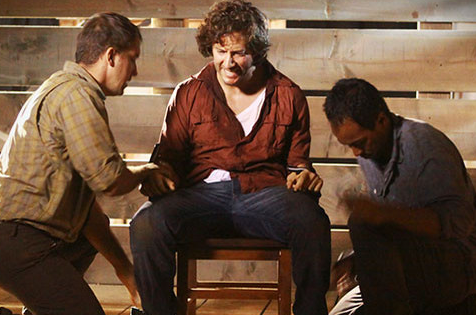 If Hurley is the soul of LOST, then the Desmond and Penny relationship is the heart.  Desmond has and remains my favorite character on LOST, and the only character I really care about in a personal way.  More after the break, including spoilers . . . .
***SPOILERS***
I cannot put this Desmond-centric episode up along LIVE TOGETHER, DIE ALONE and THE CONSTANT.  Not enough happened, but the echo of the emotional weight that the Penny and Desmond relationship brings to LOST was felt, it just was not given enough time.  And not enough happened on the island.
At least we finally got confirmation that the flash-sideways universe is how things in reality are after the nuclear bomb goes off, and that that is NOT how things should be.
WHAT I LIKED:
Widmore saying, "of course not you idiot!"

Desmond fainting upon shaking Penny's hand
Charlie driving the damn Benz right into the harbor!
Finally there is some context for the reality of the flash-sideways
George the limo driver, seems he's been in 4 other eps as well, but do not recall him
Penny's smile, such a softness to it, can relieve a Man of his burdens
Desmond still says "brother"
the three tales of Love
WHAT I DID NOT LIKE:
Uh, Sayid just coming out of nowhere, killing two people, and Desmond being like, Ok, I'll just go with you now
A confidential list of names is being read OUT LOUD??
even the hint that the rabbit might be experimented on
very little action taking place on the island, the flash-sideway was good, but after like 3 continuous segments of it, I cringed a little realizing no island action at all is coming this ep
Charlie just telling Desmond "you're not happy" when he just met him
So pieces of the puzzle are still just falling into place.  I am really getting anxious for all the pieces to be set and the show just rearing toward a clear climax.  I am thinking that is just not going to happen before the second hour of the series finale.  We still have Hurley's to sort out next ep.
Damon and Carlton wrote a good episode, and ace LOST director Jack Bender did an even better job.  Just a really great paced ep, great tone throughout.  The story moved right along, and if I wasn't so wanting the story on the island to move forward, I could easily have just enjoyed the Desmond flash-sideways ride.
So I guess Widmore is going to try and use some great electromagnetic attack or containment against MIB/Flocke with Desmond being the button pusher again for that?  Did Widmore anticipate Sayid coming and taking Desmond, and that is why Desmond goes so calmly?  Desmond seemed like he was in a trance or something, and I did not like him just agreeing to go with Sayid, so I can only guess then it is part of Widmore's plan.
Penny doing stadiums this time, just one of many opposites in this episode (the 60 year old Scotch, etc, etc).
Any Desmond screen time is good, and this ep was great for what it was, and I feel good after watching it.  It really made me give pause as I was flossing and brushing my teeth right after the ep ended and just before I started writing this review.
Do you love (or have you in the past) someone like Desmond does Penny?  I do not think I have ever bought into a TV love relationship as much as Desmond and Penny's.  Seems really real between the actors.
Yet I want the climax, though more satisfied with this setup at least.