LOST 6×12 "Everybody Loves Hugo"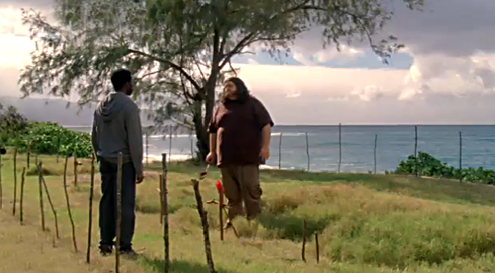 I have said before that Hurley is the heart of LOST, but that was not so apparent in what will be the final Hurley-centric episode.  More after the break . . .
***SPOILERS***
This is what the problem is with LOST season 6 . . . many of our original characters are still getting screen time, but they are either totally not themselves or just shells/zombies of themselves.  The body of Locke is the smoke monster now, Sayid is who knows what, just a zombie, Desmond also on the island just a go with the flow zombie, Jack is no longer a leader, same goes for Ben, and Sawyer, Sun, Kate, Frank and Miles just along for the ride and have no impact on what is to be done on the island.
I really wanted to see the heart of the show, Hurley, on full display in this episode.  What we got instead was Hurley being a leader, which was quite cool to see, but again, that is not the Hurley we have come to know in the past six years.
WHAT I LIKED:
Michael's apology

Seeing Libby again, especially on the beach
plenty of "dudes" spoken, but none that funny actually
Aliya (sp?) getting smoked (should have done more explosives training!)
The restaurant scene when Libby first tells Hurley she knows him
WHAT I DID NOT LIKE:
Miles not siding with Hurley

Desmond just running down alt-reality Locke?  Why?

Hurley's mom being on his case

Richard still looking like a chicken with its head cut off
Sawyer still just asking impatient questions to MIB/Flocke for what like the 3rd ep in a row?
Pushing Desmond into the well, at least kill him definitively!
Sun not immediately asking where Jin is.
I thought I kind of liked this episode, so I am surprised to see myself mostly writing only negative things about it.  I guess I am getting more and more impatient.  I have no more patient for cryptic non-answers.  Hurley just tell Jack the whole damn plan Michael told you!!
I once again was thinking that MIB/Flocke might be the good guy, until he pushed Desmond down the well.
Seems like the end of the show is shaping up to be Frank flying all the main characters off the island in that busted up plane with MIB/Flocke on board.  They land in LAX and all is as it should be and they have their memories intact of their time on the island.
I guess there was just nothing overly creative in the Hurley flashback, all totally predictable stuff.  The one surprise this ep was Michael popping up, but without knowing what he told Hurley and why, seems like just a stunt to make us go, "wow, Michael."
We did finally learn what the "whispers" were, people who cannot move on.  If the cork comes off the island do the whisper-people get to move on?
Seems MIB/Flocke was riled up to see Jack, does not seem like he has good plans in store for Jack at all.
For the first time I think this season I have no idea what the next episode is about (i.e. which character will be the focus) and I want it to stay that way so do not tell me!