LOST 6×14 "The Candidate"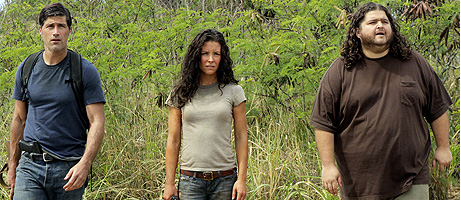 It has begun.  At long last the final season of LOST is in full gear.  This episode will receive a 5-star rating from me, only the third episode of LOST ever that I have rated the maximum.  Watch this episode in your most sacred environment.
***SPOILERS***
I got roughed up watching this episode.
FAREWELL JIN AND SUN
The most powerful scene in LOST to date, the horrible scene of Jin and Sun, alone, sinking to the bottom of the sea.
God damn you Jack, just grab Sawyer because you know you cannot stop him with words!
WHAT I LIKED:
FINALLY . . . THIS is what I wanted to happen in LOST's final season
Great acting by Matthew Fox and Terry O'Quinn
"push the button"
"Who has the gun now dough boy?"
Flocke/MIB outthinking all of them
Jack figuring it out at the last second
Jack knowing he cannot die just standing up shooting at people in the open
Sayid able to come back enough from zombie state to make a sacrifice
Jack mentioning the "rules"
outstanding directing by LOST's best director Jack Bender
Sun and Jin dying together, still roughed up about that
"I'm going to finish the job."
WHAT I DID NOT LIKE:
maybe didn't like seeing Jin & Sun's hands drifting apart, just let the final shot be the sinking sub, maybe
nothing else, this is a 5-star episode, therefore cannot really dislike anything
Now it is really on.  Flocke/MIB's plan is revealed.  I think we can finally put to rest just who the good guy is and who the bad guy is.  Flocke/MIB is the bad guy.  Widmore was just trying to protect them.
I guess here is a complaint, why in the world was Widmore's FIRST priority not setting up the damn sonic fence?  Screw the generator and Desmond experiment, get the fence up FIRST!!
Great final moment for Sayid.  He delivered his last line to Jack so well telling him where Desmond was and that if Flocke/MIB wanted him dead Jack would need him, because Jack is going to be the one.  Jack always wants to fix everything, so he is the perfect candidate to inherit Jacob's powers and get to fixing.
Powerful final scene with Jack and Locke in the flash-sideways.  Great logic used by Jack and great moment telling Locke, "I was hoping you'd be the one to go first."  I shared Locke's smile.
There seems to be no doubt we are on the final ride to the end now.  In addition to my sadness about losing Jin and Sun, my sadness comes from the end of my TV fandom in general, a topic I have mentioned before.  In just 2.5 weeks (the finale is on a Sunday!) it will all be over.  The final LOST thump will be the last note of the golden era of high production value, genre serialized drama on TV, which began in 1993 with The X-Files.
I give this episode of LOST 5-stars, which I very rarely do.  The only episodes that receive such a rating have to be transcendent.  "Live Together, Die ALone" and "The Constant" are the other two episodes of LOST I gave 5-stars to.  The first season I do not remember thinking of in terms of rating so much.
I look forward to reading everyone's reactions to this powerful episode.  I will now place my 5-star vote, better than we deserve.
UPDATE:  the finale will be 2.5 hours long!