LOST 6×15 "ACROSS THE SEA"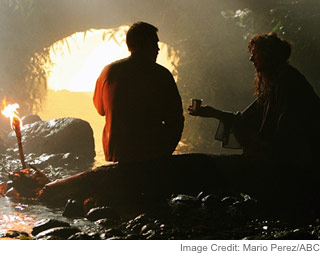 I am disappointed.  If this ep had aired in the 4th season, it would have had some impact.  Now, I actually found myself getting a bit bored with the app halfway through it.
***SPOILERS***
This episode was nothing to me.  A waste of time.  This should have been like episode 6×14.5.  Something they aired in between real eps of LOST's sixth season.  This is like the magical creatures companion book in the Harry Potter series, a nice bit of background, but not doing anything for the ongoing storyline.  I guess I do not like to be spoon fed answers, if there were really any answers there at all.  And, this episode was totally predictable.  Damon and Carlton have really lost their writing touch.  Their episodes are no longer landmarks in the series, and have not been for awhile.
WHAT I LIKED:
the special effects for the light cave and creek area, made me think of Degoba
seeing nice Hawaiian beach on HDTV
what made the MIB into the smoke monster
umm, that's about it
WHAT I DID NOT LIKE:
utterly predictable, ah shock, she kills the mother, ah shock the other baby is wrapped in a black blanket, ah shock MIB kills their fake mother, etc., etc.
Answers given were not really answers, just like the fake mother said, questions answered just lead to more questions (i.e. how did she make it so they cannot kill each other?)
introducing another episode long character out of the blue that just gets killed at the end, it has no impact because we have no connection to her, hence waste of episode
how did fake mother torch a whole village?  what was Jacob doing while she did that??
gimmick writing by mirroring lines other characters have already said (It was always you, etc)
no rousing score at all this ep
Big whoop, we learn MIB has wanted to go "home" for a really long time.  Why?  Because he is not from the island originally.  We learn who "Adam & Eve" are.  That was extremely low on my list of answers I wanted, and definitely not worthy of being a big reveal for the end of an ep.
What is the fake mother using to set up all these rules?  Is it magic?  She was muttering something over the drink she gave Jacob to make him like her.  What was that ability?  Tell us that!
The light in the cave is the heart of the island, a part of that light is in every man but men want more.  Why is something so important guarded by just one woman?  Why is there not an army?
Basically the only remotely interesting thing was we learned MIB got turned from somewhat corporeal human into smoke monster because he was tossed down some magical creek that is the heart of the island.  Alright, thanks for telling us that.  I would rather of known how MIB found a loophole to take on physical form again, etc.
The donkey wheel, a reveal?  Not really, we just saw it lying there, who knows who actually installed it.
I don't know, maybe I am just being too hard on this episode.  I will be, as always, curious to hear what you guys think.  All along I have been thinking to rate this ep only two stars, but….three?  By definition have to give it a three, though emotionally I feel it was a two.  During the middle part of the ep my mind was drifting, I was that disengaged from the story being told.  I just did not care.