LOST 6×16 "What They Died For"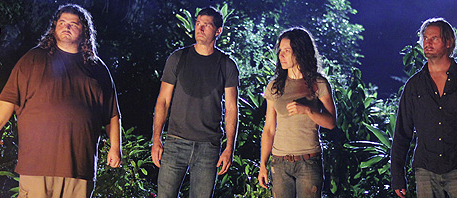 It has really started now.  LOST is really ending.  We are well on our way and by this time Sunday night it will be done.  The tone of this penultimate episode had a totally different feel to it.  Either the music or the camera work or both produced a whole new feel to this episode.  The end of LOST will be distinct.  I will think of nothing else until Sunday.
***SPOILERS***
There is no time left, and things are finally happening on the island that reflects that.  Characters are being unceremoniously killed off.  MIB/Flocke is actually stating what he wants and is going to do.  Jack is Jacob's replacement.  Ben has given in to complete evil.  There is not even time for a glass of lemonade anymore.
WHAT I LIKED:
The look of fear in Richard's eyes when the call of the smoke monster rang out
The look of anguish on Sawyer's face when he accepted he caused Sun, Jin and Sayid's deaths
The compassion Jack showed by insisting it was MIB/Flocke's fault their friends were dead
Alex's gravesite scene
The explanation for why MIB/Flocke is not just smoking around all the time
Perhaps a final LOST campfire scene, always loved the look of them
Jack manning up
Hurley's honesty that he was glad it was not him
Jacob's reasoning for Kate being or not being a candidate still, funny
Hurley has a badass classic Camero
Desmond's whimsical and methodical plan unfolding in the flash-sideways
The very purposeful direction of every reveal in the episode
WHAT I DID NOT LIKE:
Widmore so unceremoniously killed
Richard to unceremoniously killed
Ben going over to MIB/Flocke's side so quickly and completely
I guess Miles must have let Desmond out of the well because I saw no one else having any time to do it.  Unless Sayid did it right after he was supposed to kill him.
Dirty Tina Fey just got dropped, I can imagine there were some cheers somewhere at that occurrence.
What snapped in Ben so that he just blindly is willing to do whatever MIB/Flocke wants him to do?  First he said Ben could have the island once he leaves.  However, by the end of the ep MIB/Flocke said he was going to destroy the island.  Why would Ben then continue to help MIB/Flocke?
What weapons can Jack, now the same as Jacob, wield to protect the heart of the island against MIB/Flocke?
The writers did a very good job of not merely making this penultimate episode a setup episode for the series finale.  Enough concrete answers were given, enough happened on island and in the flash-sideways to make this a very satisfying episode on its own.
And now after six years we have but the final act left.  Truly, it will be the last great genre event for me in the foreseeable future if not forever.  They ended one-by-one in the past decade, Star Wars, then Harry Potter, and now the last remnants of my fandom will flame out when I presume the LOST title booms onto the screen at 11:30pm Sunday.  I am ready.
UPDATE:  I really liked seeing Rousseau again.  Great scene with her and Alex.  I even liked seeing Anna Lucia again.  Bring them all back!