WARLOCK [1959] review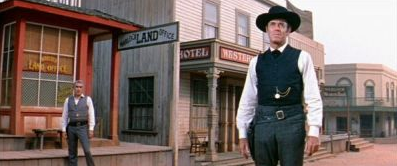 Despite an unfortunate title, WARLOCK is a very good psychological western starring Henry Fonda who I am finding I really like in westerns.  He has an unusual look for an old west gunslinger with a commanding voice that is more forceful than even his gold handled Colts.  He has a faithful sidekick that travels with him from town to town, bringing peace and order to towns, for a price.
Warlock is the name of the town that has a problem with a group of outlaw cowboys with a ranch nearby.  They are the typical thugs who come into town and take what they want, and kill who they want.  The town jailhouse and sheriff's office has the names of the past sheriffs indignantly etched and scratched off the inside stone wall.  We see the latest sheriff get humiliated and sent out of town by the gang.
Having enough, the town council moves to hire Fonda, a known marshal for hire whose occupation is just solving this town's particular problem, although he tells the townspeople, they will come to not like him eventually.
Most westerns of this kind are only 90-minutes, but WARLOCK is a full two hours allowing for a surprising number of backstories and plotlines to develop.  Fonda's sidekick has a past unknown to Fonda.  Fonda himself falls extremely quickly in love with a local woman and plans to marry her.
Of course the outlaw cowboys do not just hide out on their ranch.  Fonda is not their only problem though as one of their own can no longer stomach their ways and becomes himself a deputy to protect the town.
The final confrontations are tense and well directed.  Warlock is an excellent example of the psychological western, my favorite kind.