CARS 2 [2011] review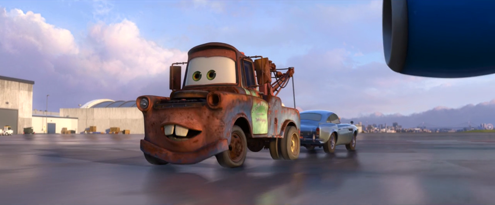 Wow, I just re-read my review of CARS [2006] and it could be applied as a word-for-word review for CARS 2 also!  I thought the first movie was by far the weakest PIXAR movie at that time (2008) that I had seen, but CARS 2 may be even weaker.  This sequel contains many of the same flaws, including a very, very weak story that is obvious (embarrassed about a friend who is not as cool as you are).  The subplot about alternative fuel could have been interesting, but it was left basically undeveloped.  The biggest problem, by far though, is making Mater the main character of CARS 2.  This kills CARS 2 ability to work as both a movie for kids and adults.
The only thing better about CARS 2 is that it actually has some action in it, though it is absurd action basically making the fact that the characters are cars meaningless as some can fly, become submarines and basically have a gadget to do anything.
Mater really is the only character that has any significant screen time from the first movie.  He gets confused for being an international spy and unknowingly through a series of ludicrous scenes helps two real British spies foil a plot by a group of lemons.  I thought that was a clever thing, having cars that everyone thinks are lemons want to seek revenge, but if they were all such lemons, how come they never broke down in any of the action scenes?
It's funny that for a person whose favorite manmade things are cars, for both CARS movies to be his least favorite PIXAR films.  This are not just bad by PIXAR's lofty standards, they are bad by any.  This is a terrible waste as the CGI animation for CARS 2 was utterly stunning.  I think somewhere there is a good story for using cars as characters, but so far, neither film has had it.