THE NAKED SPUR [1953] review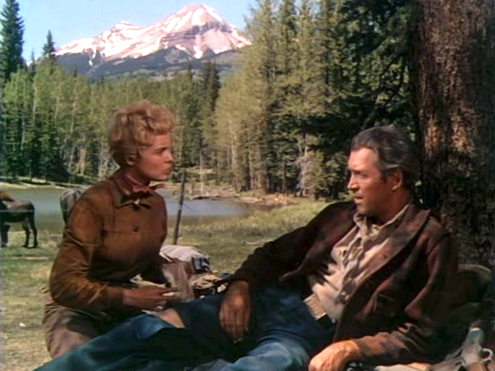 THE NAKED SPUR marks the fourth western collaboration between actor James Stewart and director Anthony Mann I have seen.  SPUR is different from the others in that you never see a single town, just the rugged wilderness of the Colorado Rockies.  Stewart is searching for a wanted man with a very big price on his head.  Mostly through chance, he takes on two partners to help him bring in the alleged back shooter.  The only catch, Janet Leigh is with the villain, willingly.
Stewart plays his usual honorable cowboy while his partners are an old prospector and a dishonorably discharged Union soldier.  The movie is set just 125 years ago.  It always amazes me to think how much the world has changed in just a century.  You could make your way just living on the land roaming the mountains back then, before everything was fenced or federalized.
The wanted man is played excellently by Robert Ryan.  The character is extremely cunning, and cool.  The three men have him dead to rights, but he is smart enough to know that $5,000 as he puts it, "splits better two ways."  His plan is to let the men fight amongst themselves biding his time for an escape.
The Colorado Rockies backdrop is beautiful and makes one yearn to be outdoors.
Tension indeed builds between the three bounty hunters, as well as the romantic relationship between Leigh and one of them, which will be no spoiler to say it's going to be Stewart.  Leigh remains stunning looking even after days slogging through the backcountry with only streams to wash in.
In the end each man makes his own fateful decision on whether to collect the reward money or not.