MIDNIGHT IN PARIS [2011] movie review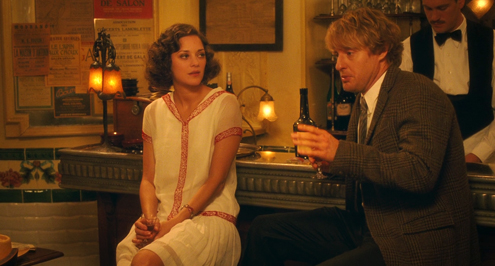 I was jus thinking earlier today, or was it yesterday, that I have not seen a 2011 movie yet of any impact. Impact along the lines of INCEPTION last year or THE DARK KNIGHT or even THE ILLUSIONIST. Then tonight I watched MIDNIGHT IN PARIS and 2011 is saved, I have seen at least one masterpiece movie that I will remember for a long time this year. If you have ever been to Paris, as I have, it will make you think you need to go back, soon. If you have never been, and you saw this movie, you are probably already on a plane there. I could not have watched a more appropriate movie for my own current situation right now. Thank you Woody Allen.
I am not a fan of Woody Allen's more famous works. ANNIE HALL was the only movie I have ever watched that I literally stopped watching ten minutes in. I could not stand another second of whatever gimmick that was. However, I really liked MATCH POINT and now I love MIDNIGHT IN PARIS, so it seems I am becoming a fan of Allen's late career work.
It was obvious to me from the very first scene of Owen Wilson (Gil) with his fiancee that they totally should not be together. Wilson plays a Hollywood screenwriter who is sick of being a hack and wants to write a novel. His fiancee does not support him in this endeavor at all. That's when I knew, from personal experience, that he should not be with her. Anyone who does not support your dreams should be discarded with haste.
The fiancee runs into a pompous friend and his wife and prefers to listen to him be a know-it-all rather than do what Gil longs to do, walk the Paris streets at night, preferably in the rain. Finally he frees himself from those fools and has his own time in Paris. Lost and tipsy, he is sitting on some steps when people from inside an old car beckon for him to join them. I did not know the premise of the movie so I did not catch on right away that Gil slipped into 1920s paris, the time of Picasso, Hemingway and Fitzgerald. You know this because Gil meets them. He also meets a muse for all of them and is himself enthralled.
The rest of the movie is just cinema magic that is an utter joy to watch. I cannot imagine a more fantastical imagination of Paris. Shall I move there?