THE HANGOVER PART II [2011] movie review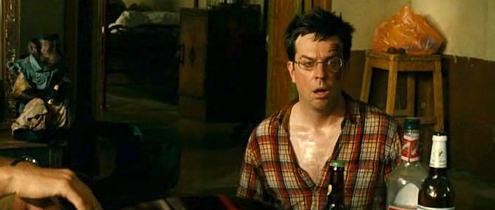 I had heard that THE HANGOVER PART II was not as good as the first wild romp that was THE HANGOVER, but I found PART II to be every much as fun, or more.  The action shifts to Bangkok this time and finds the boys in serious trouble with no memory of what happened just two days before another wedding is supposed to happen.  I would not want to really experience anything the characters did, but it sure is vicarious fun to watch them get as crazy as one can get in Thailand.
I think my enjoyment of HANGOVER 2 was enhanced by the fact I have been two Bangkok, Thailand, twice.  Seeing the streets of Bangkok on screen I could call upon my memories of the real smells and feelings of the place.  Before I went there I was aware of the saying, "Once you arrive in Bangkok, get out as fast as you can,"  meaning the islands and other areas of Thailand are the real reason to visit the country.
The first two acts of HANGOVER 2 were at a manic pace with ha's flowing left and right.  However, just like the first HANGOVER, the third act really slowed down and there was hardly a ha to be heard.  It seems such an insane pace cannot be kept up reel to reel.
Still, HANGOVER 2 is very successful at what it is trying to be and even though I cannot see how the concept can be stretched for a third film, I cannot say I would not want to spend time with these characters again.
P.S.  In case you did not know it already, do NOT watch this movie with your mom!