GENTLE GIANT [1967] movie review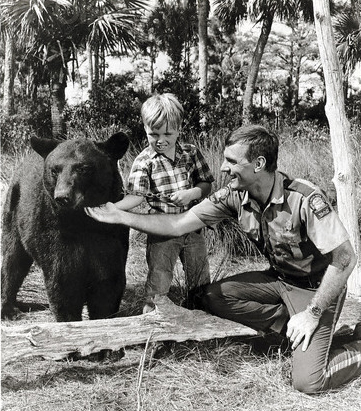 I had heard of and as a kid seen the TV show Gentle Ben.  GENTLE GIANT [1967] is the movie from which the TV show sprang, with the movie itself coming from a book by Walt Morey.  For animal lovers like myself that live in Florida, well, this movie is virtually made for such people to watch.  Living near a preserve in old 1967 Florida a young boy, Mark, played very well by Clint Howard goes out on seemingly daily adventures in the woods.  This is where he first meets the bear he would eventually call Ben.
Mark is happy to see a black bear and her cub, even petting the young fellow.  However, as three drunks stumble into the open tragedy ensues as they illegally shoot the mother bear.  I never loathed anyone on screen as much as the leader of this gang of scum.  He even had the nerve to keep the cub for himself chained in an old woodshed.  I really do not understand how the small town tolerated this person living in their community.  To me, it was a flaw in the movie, it seemed to absurd.
Nevertheless, the boy of course would not be denied in being reunited with the growing cub.  It certainly seemed like the child actor really, really loved the bear.  With his uneven haircut and large front teeth and earnestness, the boy was an extremely sympathetic character.
The viewer is taken through the challenges of having a large black bear around and of course, it cannot all stay good for long.  When the fate of the bear once again gets placed in jeopardy, will the boy's love for the bear be enough to save him?
Thankfully, the movie in the end remains a heartwarming one.