DRIVE [2011] movie review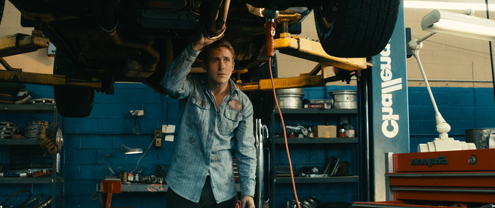 I was looking forward to seeing DRIVE very much because of my love for cars and driving.  This should not be one's main motivation for seeing this film as the two real car actions scenes were good and visceral, DRIVE actually is a film noir of a kind, very high on style and violence that hardly seems worth making just to put something so grim out there, once all is said and done.
For a mostly silent character, a Driver, and one without a name, Ryan Gosling is very good and very believable with only silent stares and how he carries himself.  He creates a very interesting character I would have liked to seen more of, but unfortunately the story does not let him be at ease on the screen for long.
Throughout the entire first act of the movie the viewer has a very strong sense that things are going to go very, very bad.  The Driver lives in a new apartment building and helps out a neighbor in need with her car repairs and her young son while her husband is in jail.  If I was him I might have asked her how long he was going to be in jail for because it is in fact not long at all, like only two weeks or so after he meets her.
The Driver seems to be a very cool customer, very in control of his life.  He does movie stunt driving, legit auto repairs, but also is a part-time getaway driver with a code:  he will give you five minutes for sure, but that's it.
DRIVE is a very violent and graphic film.  I had to turn away in numerous scenes as I just do not want to literally see someone's head smashed in.
Only now about an hour after the credits rolled am I starting to film DRIVE is just too grim to need to exist or be seen.  The atmosphere is great.  Gosling is great in his role.  There are some ok supporting characters.  There are a couple of brief, but engaging car chase scenes.  However, the story is the usual robbery gone bad scenario with just a whole lot of style going on having Gosling stare into space, stare at his neighbor, stare at his pie in a coffee shop, then a third act of major violent acts.  So even though I do dig DRIVE's style, the story and violence negate the few attractive points of the film.
Do not see this movie with your mother.