MONEYBALL [2011] movie review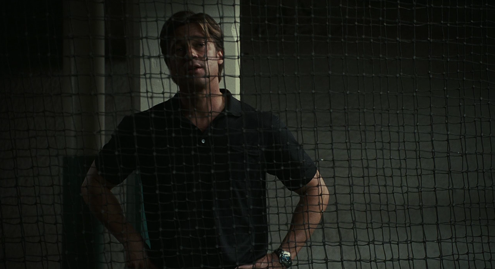 There is an overall tone of melancholy to MONEYBALL, the based on a true story Brad Pitt starring movie about using numbers to run a baseball team.  The Oakland A's are a losing team in a small market.  Pitt is a former player that was a major bust.  Everything in the Coliseum looks dingy.  The only things clean are the numbers.
 I think it definitely helps to have an interest and especially an understanding of baseball to get the most enjoyment out of MONEYBALL.  Certainly there is an interesting story, and is well acted with good cinematography considering most scenes take place in the basement of an old baseball stadium.  However, being able to feel romantic about baseball, as Pitt's character talks about several times during the movie, helps one appreciate MONEYBALL.  I felt most compelled to see how the moneyball system would work for running a real MLB team.
There are actually baseball games shown, some with a lot of drama and tension, but we see them indirectly, from a distance, just how Pitt's character never actually goes to the games, travels with the team or even really watched the games on TV.
MONEYBALL's main point seems to showcase if you have something you believe in enough, trust it, stick with it and see it through despite naysayers and established ways of doing things.  I like to see characters with the guts to do that.
Since the movie is based on the real events surrounding the Oakland A's, and if you know any recent baseball history, then there is no Hollywood ending tacked on.  The melancholy mood last through the end of the movie, but it is real, and thus, makes the movie effective.